Could you tell us a bit about yourself and when you joined Arm?
Hi, I'm Will and I work as a Senior Firmware Engineer in the GPU group in Cambridge, UK. I joined Arm as a Graduate Engineer in 2018 after completing a degree in electrical engineering at the University of Birmingham and have now been working at Arm for almost 5 years. While I was at University I developed a passion for building embedded systems and this is when I first became aware of Arm. Having the opportunity to work at Arm and develop technology that is at the center of so many embedded systems is incredibly exciting.
How has your career at Arm developed? Tell us about some of the growth opportunities that you have experienced.
I had the opportunity to start life at Arm in the 'Platforms' team, where I worked on the bringing-up of Arm development boards and the latest Arm CPUs. This included working on novel technology, such as the Arm Morello program.
Throughout my career at Arm, I have been able to benefit from the guidance of experienced colleagues who are experts in their fields. This has accelerated my learning and growth as an engineer.
Arm has a strong culture of allowing people to reach their full potential and giving them ways to pursue their ambitions through new opportunities and responsibilities
At the start of 2023, I had the opportunity to take on a new challenge and make an internal transfer to the GPU group to work as a firmware engineer. Working in GPU has been a great experience for me, learning from many other software and hardware engineers who all have the same goal of creating best-in-class Mali GPUs. Knowing that I am working on such an impactful product is very enjoyable.
What was your experience as a graduate like, and what are some of the aspects of life at Arm that you value the most?
Starting life as a graduate at Arm was a fantastic experience, from both a technical and social standpoint. In the first couple months of joining Arm, the global graduate conference took place, which allowed the Arm graduates from across the world to meet over a couple days and listen to talks from Arm's senior leadership.
Some of the activities I have taken part in include the London-to-Cambridge bike ride with team Arm, and the Silicon Gorge Cup football tournament, where we travelled to Bristol to play against teams from other semiconductor companies.
Arm also has an on-site gym on the Cambridge campus, which includes fitness classes offered by the well-being team. Being able to head to the gym during the day is a great perk of working here!
Outside of sports activities, I'm a member of the Arm Cambridge Public Speaking Club where I've enjoyed developing my soft skills. There are many social clubs that run within Arm and if there isn't one that matches your particular interests then you are encouraged to create one.
Could you tell us a bit about your experience working within the GPU team?
I've been working in the GPU firmware team for 6 months now, which I have really enjoyed so far. The work is high impact, challenging, and very rewarding—especially knowing how many Arm GPUs are running across the world.
So far, I've completed my ramp up in the team and I will be working on firmware performance improvements alongside engineers in Cambridge, Manchester, and Norway.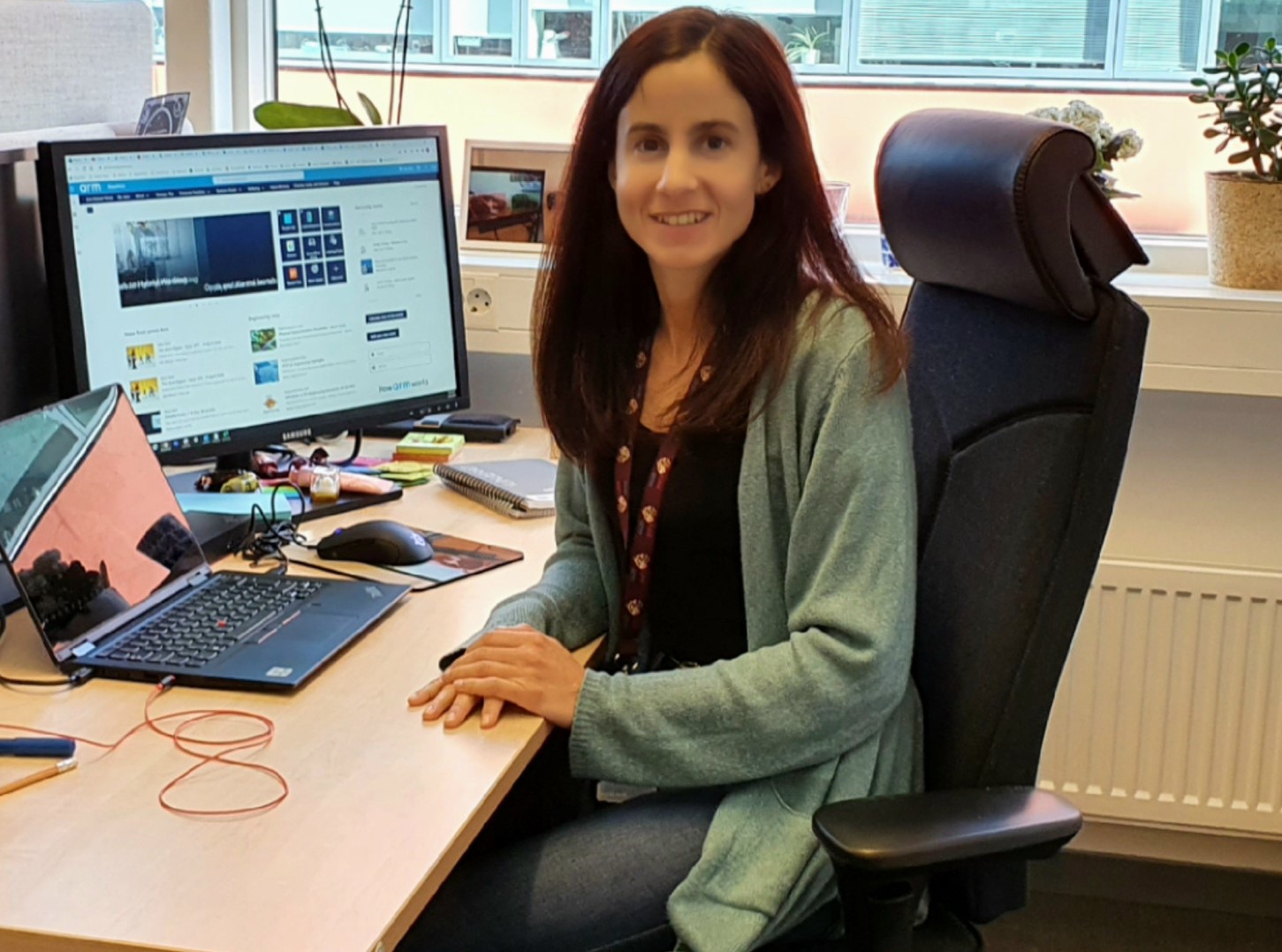 Noelia's GPU Story