Trondheim Office
An old bank with a vintage video games room in the vault, no wonder Norway specialises in GPUs and graphics!
Norway is famous for its spectacular fjords and glaciers, as well as its Viking history." Trondheim is a third largest city in Norway and is situated on the shore of the Trondheim Fjord and has a history dating back to Viking days (it was once Norway's capital)
There's been an Arm office in Trondheim since 2006, when the company acquired Falanx Microsystems AS, a tiny start-up founded by five graduates from the Norwegian University of Science and Technology in 2001. We now have around 190 people working here.
Location/ immediate surroundings
The office is in a great location right in the middle of town, just a few minutes from Trondheim's famous Gothic cathedral. The town is surrounded by the river, which restricts too much growth – there are definitely no high rises in Trondheim! And, of course, we can see the hills and fjords from our office. This is Norway, after all!
Work focus
Trondheim is a small team, focusing on the graphic processing unit (GPU) side of the business. Along with Cambridge, it's the main office handling GPU and graphics for Arm. It's a centre of excellence and acts as project lead on a wide range of GPU applications.
"The building was once a bank, and the old vault in the basement has been turned into a games room and social space… If we can't find someone at their desk, there's usually a good chance they'll be down in the vault!"
Our building
Our Trondheim building has an interesting history. It was once a bank, and the old vault in the basement has been turned into a games room and social space. The walls are decorated with vintage gaming graphics, and there are pinball machines and console games for staff to play on their breaks. There's even a bar. If we can't find someone at their desk, there's usually a good chance they'll be down in the vault! Having a space like that is important because we work so hard, that having a fun place to relax is really great. There's also a gym in the basement for staff to use.
Lunch and leisure time
Most people take an hour or so for lunch. Everyone enjoys coming in to the office because of our fantastic cantina – there's a great range on offer, from traditional Norwegian food to vegetarian and vegan dishes.
Otherwise, there are lots of restaurants nearby where you can find pretty much anything you want to eat. Trondheim has around 30,000 students, so there are always new restaurants, cafés and bars opening round town.
Norwegians are very big coffee drinkers – second in the world after Finland – so there are plenty of coffee machines around the office. If you want to drink coffee like a true Norwegian, you have to take it very strong and very black.
Office culture
Trondheim is a young office. The average age is around 33, with a roughly 50:50 split between Norwegians and non-Norwegians (in fact there are about 33 nationalities represented here)! We don't have a reception as such – if someone's visiting we prefer to just walk down and greet them ourselves.
The usual working hours are 10am to 3pm, but people work the hours that suit them: some arrive early at around 7.30am, others stay late to about 7.30pm. The office is flexible and tries to work around people's circumstances.
The office itself is light, airy and open-plan. Everyone has individual desks, but there are also team rooms and breakout spaces for collaboration.
The environment is really important in Norway – we are one of the world's leading adopters of electric vehicles. So we like to think we're a green office. We have good recycling facilities, use green energy, and encourage sustainability wherever possible.
Cycling is also very popular in Trondheim. There are many bike lanes in the town which makes it easy to commute, and there's secure bike parking for staff in the basement. There's even a space to wash your bike – which is vital because of all the salt on Norway's roads in winter! There are a few e-bikes for Arm people to use, too.
Local tips
A great way of getting to know the city is just to follow the river around the perimeter of the old town. You get to see the old parts of town and the interesting architecture.
You can also visit one of the city's best pubs, Den Gode Nabo (which means 'Good Neighbour' in Norwegian). It's a really old, rustic building, with uneven floors that make you feel like you're drunk as soon as you walk in! And the beer is really good.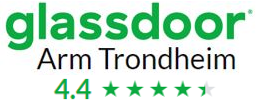 Arm Trondheim

Olav Tryggvassons gt. 39-41, 7011 Trondheim, Norway