Austin is a big, busy office working across nearly all of Arm's groups, from systems to sales. We're a touchstone for nearly every corner of the Arm family and work regularly with other locations all around the world.
More than 800 people work out of the Austin office, so it's a really diverse and interesting mix, encompassing many cultures and nationalities, and a growing gender balance, led by our female engineering VP.
Location/ immediate surroundings
As the capital of Texas, Austin is known for its creative and technology industries, and its vibrant restaurant, bar and music scenes. We've been based at various locations around the city, but we're now settled in a purpose-built business park about 10 miles from downtown Austin.
Our building is part of a two-building complex, occupying all four floors, with 360-degree views of downtown and greenery. The facilities here are fantastic: we have a large parking garage and lots of great outdoor spaces, including a baseball and soccer field, basketball court, sand volleyball court, fitness center and on-campus cafe.
Work focus
Austin works across nearly all of Arm's groups, including Central Engineering Systems, productivity engineering, engineering for open-source software, engineering operations, research, architecture and technology, physical design, legal, IT, and people – in fact, you name it, and Austin is pretty much guaranteed to be involved.
There's a lot of cross-site collaboration: we're regularly working with Cambridge, Chandler (Arizona), Sophia-Antipolis (France) and Bangalore, but we're probably working in some way with nearly every Arm site at any given time.
Lunch and leisure time
The building has everything we need: gym, cafeteria, coffee counter, gazebo, a small park, volleyball and basketball courts. We spend a lot of time outdoors (at least when the weather isn't 100+ degrees outside!). People meet and eat in the café, play basketball or soccer, go for walks around the site, work-out or go for a run. There are also ping-pong and foosball tables, as well as video games to play. People here make heavy use of them during down-times. The quality of the cafeteria menu is so good most people don't need to go out for lunch!
And lookout for the list of all our patents on the walls leading up to the café!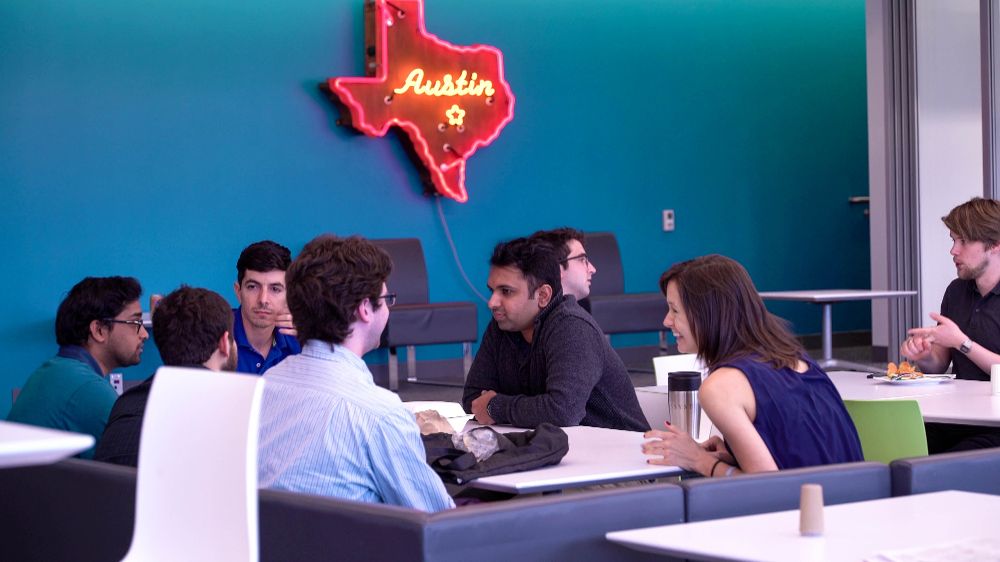 Office culture
We have a mixture of new joiners and 'old-timers' based here. The world map on the 4th floor is covered with pins showing where everyone comes from – it's an impressive sight! Austin also has representation from the Women's Network, Pride Network, and Black at Arm network.
It's an active office, too, with events throughout the year, from summer and winter parties to an annual Diwali celebration and volunteer activities like tree-planting and outreach events for local schoolchildren. The café is always overflowing at lunch. The breakfast tacos are especially popular! People even bring in their musical instruments for mini-jam sessions!
One section of the café is dedicated to environmental topics, reflecting the active recycling and environmental volunteering that takes place in Austin led by our dedicated 'green team', which organizes eco-friendly events.
Local tips
We're in Texas, so of course, BBQ is king here! There are some great traditional places like Rudy's, County Line, Terry Black's, Iron Works. Mexican is also big:
Manuel's, Guero's, Hula Hut, Iron Cactus are all good places to try. There's always the city's thriving food truck scene too.
There's so much to do in Austin: Laguna Gloria Art Museum, Bob Bullock Texas State History Museum, the State Capitol, Austin City Limits (and the ACL Music Festival), SXSW, and the Circuit of the Americas which hosts Formula One racing. If you go a little further outside city limits, there's horseback riding and hiking in the hill country, with lovely wildflowers every March and April.
There are outdoor hiking paths that people take advantage of every day: one of the most popular is the Butler Hike and Bike Trail around Lady Bird Lake. Austin also has many parks, including Zilker Park.
Curious fact
Texas-English has some unique pronunciations: just ask someone how we say 'Guadalupe' (it's a river) or Texan locations of 'Manchaca' or 'Burnet'. You'll be surprised…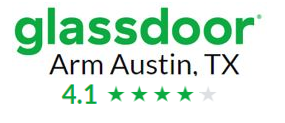 View our Austin location
Austin Office

Building 1, 5707 Southwest Pkwy #100, Austin, TX 78735