When you join Arm, you will see a high trust, supportive and flexible working environment. With an organic culture of imagination, ingenuity and fun, Life at Arm is "where people work to live, rather than live to work".
Our Core Beliefs
We have a culture of imagination, ingenuity and fun. So how do we keep adding to our reputation as one of the world's most amazing tech companies to work for? With a three-pillar philosophy that guarantees all of our growth.
Do great things
Working at pace, embracing challenges, finding a way
Aim high, be courageous, take risks
Find the balance between speed and perfection, whilst striving for excellence
Be intentional in what you focus your time and energy on
Adapt, be willing to change direction to improve the outcome
Welcome the challenge and celebrate achievement
We, not I
Win together, not alone
Co-create with our ecosystem, through listening and leadership
Take accountability for your actions and support others' decisions
Include the right people at the right time in decision making
Make the most of the skills and knowledge across Arm, share information with those who need it
Care about the people around you
I think one of the best things about Arm is the fact that there's not limited set of qualities that you need to get in. If you're doing your job well, Arm will find a way to accommodate you.
Diana Senior Software Engineer
The reasons I work at Arm are for the massive impact you make on the world with technology, the awesome benefits package (next year I go on a month's paid sabbatical) and finally the people here are just nice and super smart to work with.
Ross Senior Director of Engineering Debug & Studio Tools
There's never a dull day at Arm. I'm never working on the same project for too long which means I get to work with lots of different teams. It's very much a fail and learn fast culture and we'll always quickly make a call on whether we should stick with it or switch it up and try something else.
Sophie Senior DevOps Engineer
Rewards and Benefits
Rewarding our employees is more than salaries, cash awards and bonus plans. It's just as important to make sure that collaboration, innovation and support for our people as individuals is demonstrated in everything we do. We'll provide you with benefits that will help with your health, wellness, and development. And although our packages will differ slightly depending on the job and location you're thinking of applying to, we will make sure that you're looked after.
Learning and Development
We encourage our people to upskill as much as they want with a comprehensive learning and development package which includes technical development, mentoring, internal and external conferences, tech talks, and donut sessions. Whether you want to learn a new programming language, upskill your excel skills or read the latest articles on Microprocessor reporting we are with you to Spark the worlds potential.
Sabbatical
We encourage our people to take plenty of annual leave, so they remain inspired and refreshed. But you know what really does it? When we encourage them to take an extended paid 4 weeks' sabbatical after 4 years of service.
Progressive Leave
We treat our people as individuals rather than a resource. Because it's important to us to be there for you during the significant moments in your life, we offer flexible progressive leave. Whether you're growing a family, acting as a primary care giver or going through family loss, you'll be able to put your family first when it matters the most, without career consequences.
Wellbeing
We create a safe space for you to look after your mental and physical health, with support ranging from medical insurance to the workplace mental health platform Unmind. Alongside a growing number of onsite gyms, yoga, cycling and running clubs. This is all underpinned by a flexible working policy to ensure you can be your brilliant self at work.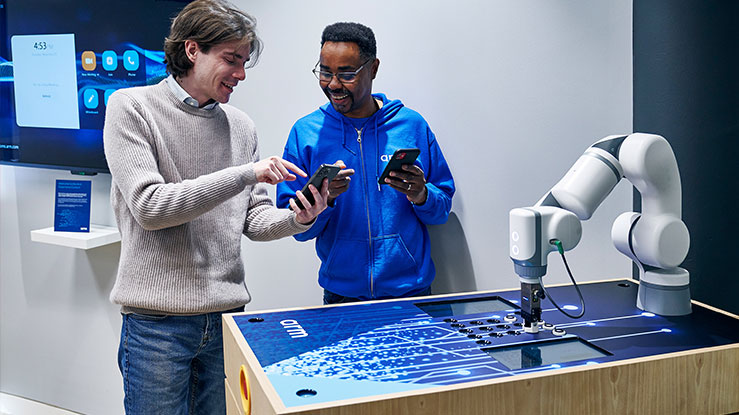 Team Arm
We've volunteered over 35,000 hours to amazing causes, like helping kids in disadvantaged areas learn to code, advocacy for female leadership groups and many more STEM activities in the community and charity spaces. We'll even give you an extra paid working day each year for volunteering!
Diversity, Equity and Inclusion
We are all unique. And we couldn't be any more proud. People from all walks of life, from all over the globe, have made a home at Arm. We're interested in getting to know you – the real you! That's why we ask you to be your brilliant self here, because it truly benefits each and every one of us. Both creatively and on a human level. You'll never not get recognition for your work by being who you are. In fact, it's quite the opposite.