Sophia Antipolis Office
Surrounded by woods, with views of the Alps, when this dynamic team aren't busy in the office, they're likely to be exercising in the fresh air
The Arm France hub site emerged as a result of two key acquisitions: EuroMIPS Systems in 2000 – a company with expertise in smartcards and security – and SOISIC (Silicon on Insulator Systems and Integrated Circuits) in 2006. In 2017, we merged them in Sophia Antipolis technology park in the south-east of France and hired 70 people from the Intel site that had closed locally. At this point, we decided to build a brand new 420-seat office from the ground up, which opened in 2020 on the 20th anniversary of Arm France.
Arm France has seen its team increase by an average of 25% per year since it opened to make a team of 300, which makes it one of the fastest-growing Arm offices in the world. This momentum has given the office a dynamic atmosphere – it's somewhere we expect growth, synergy and innovation to happen.
"Most people

look out over a woode

d

canyon

from their desk

, with the snow-capped mountains of

Mercantaur

visible on the horizon."
Our buildings
Our state-of-the-art office was built to ambitious environmental and wellbeing standards (LEED and WELL certified respectively). The buildings are optimized to allow the bright Mediterranean light to flood in from all angles, and every workstation has a view (and not just any view): most people look out over a wooded canyon from their desk, with the snow-capped mountains of Mercantaur visible on the horizon.
The office has been designed with wellbeing in mind throughout – from the two-storey Atrium restaurant (named after the architecture of Arm's global HQ in Cambridge) serving delicious food with local organic sourcing, a barista cafe, a gym, 17 showers, several outdoor terraces, foosball table, shuffleboard, bookable retreat rooms with sofas, an audio/music room and a huge roof terrace with a pergola.
Location/ immediate surroundings
Our office is located in the middle of the Sophia Antipolis technology park – the largest technopole in Europe – amid the stunning natural surroundings and beautiful climate (300 days a year of sunshine!) of the Alpes-Maritime region of France, where the Alps dip their toes in the Mediterranean. The park itself is surrounded by hills and forest, and it's just a ten-minute drive to the French Riviera, with both Nice and Cannes within easy reach. The mixture of nature, climate and the really vibrant community of companies and organizations on the tech campus make our setting quite unique.
Work focus
Sophia Antipolis is Arm's busy hub site for continental Europe. It has two 100-strong teams – the CPU design team and the physical IP design team – as well as smaller teams involved in a plethora of other Arm activities, from software development and enterprise functions to people, finance and workplace. We have daily interaction with the other six Arm hub sites around the world, as well as our partners around Europe.
"We've named all our meeting rooms after local musicians and bands from the Seattle music scene –

Soundgarden

, Pearl Jam and Jimi Hendrix, who was born in Seattle

."
Lunch and leisure time
Outdoor activities bring people together in their leisure time – perhaps for lunch with a colleague at one of the many restaurant terraces on the park (over 50 to choose from). Sport is a big deal at Sophia; people like to exercise in their lunch hour, whether it's organizing boot camps between themselves, going for a stroll in nature, or even heading to the coast and back. A whole range of sporting competitions take place year-round between the companies on the tech park – from football to volleyball, basketball to running – and the campus even has its own Sophia Games, which takes place over a month.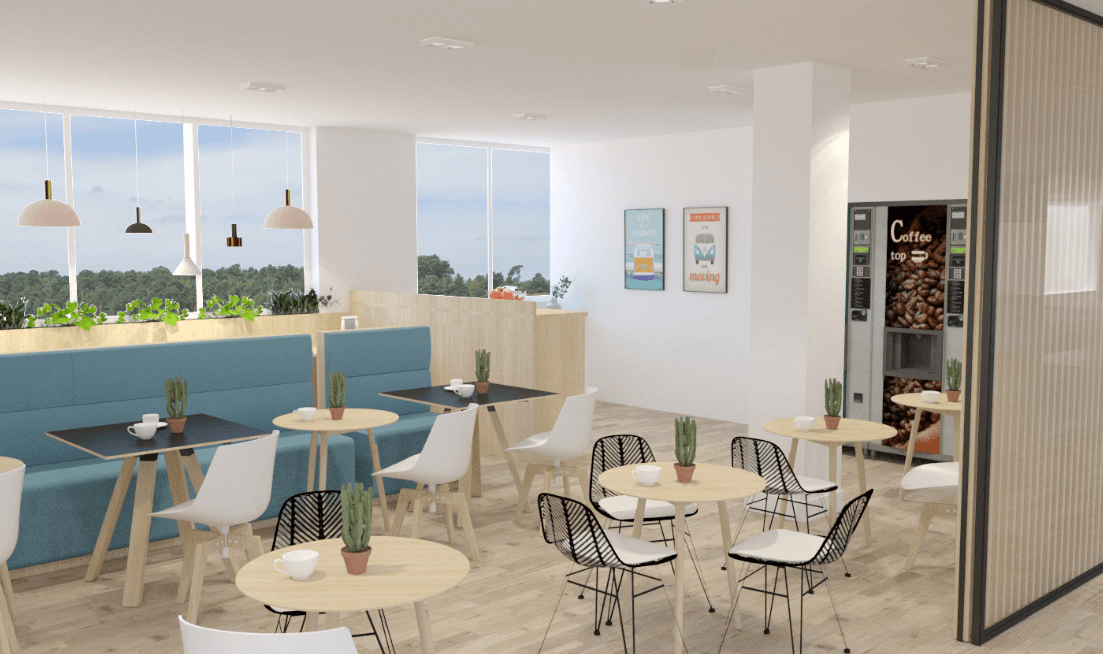 Office culture
Arm France is a fully bilingual office and we're proud of our diverse mix of ages and nationalities 35 at the last count. We are piloting a 'leadership zones' approach for Arm a zero-single-office concept combining open-plan workspace with huddle rooms, designed to support the collaborative work culture we value so highly at Arm.
Environment and sustainability
Arm France takes great pride in its strong environmental ethos, which has been further strengthened by the energy efficiency of the new office. Doubling down on its eco-credentials, Arm France is committed to reducing plastic throughout the building; has secured the provision of shared bikes to and from the local bus station 1km away; and, in 2020, spearheaded a month-long planet-friendly event in the office called Mobeco. During this, Arm people could win points for eco-friendly actions, from reducing their carbon footprint and attending make-your-own workshops to refusing plastics and giving a 'lunch and learn' talk to colleagues on an eco-theme; the three winners won an electric bike!

Arm Sophia Antipolis Office

738 Avenue de Roumanille 06410 Biot - Sophia Antipolis, France