By Jemma Vanessa Fry - Principal Security Solution Architect
You may have noticed some people adding their personal pronouns to their email signatures or their online profiles in Zoom and other collaboration tools. This can be a really good way of fostering an inclusive culture. I wanted to explain why I think this and share how people can communicate their preferred pronouns, as some people have been asking about it.
Why do we use pronouns?
Pronouns are the shorthand we use to refer to subjects to avoid having to overuse a noun, or where the noun may be unknown. In English, the pronouns we use for individuals are often gendered, and in other languages, the pronouns used for inanimate objects may be gendered too.
A personal pronoun is exactly what it says on the tin. Not only because it refers to a person, but because it can be an affirmation of a person's identity. Using the wrong pronoun for someone can make them feel that their identity is being compromised and that they are being excluded. Such "misgendering" is not usually malicious and can be quickly rectified with a discrete correction. If it's persistent, though, it may represent a subtle act of exclusion and the person might begin to feel unsafe around those who don't use their affirming pronouns.
Why get to grips with pronouns?
There are many reasons why displaying your pronouns, or pro-actively asking what someone's pronouns are, can be inclusive of everyone. They're not just for trans people!

Some names are gender-neutral, so a person's gender may not be apparent from a name alone. The TV series Star Trek: Discovery features a leading character called Michael, and you might assume this person uses he/him pronouns, but Michael is a cisgender (i.e., not trans) woman and uses she/her pronouns. The series also features Adira, a non-binary person, and their crewmates easily switch to using they/them pronouns to refer to them.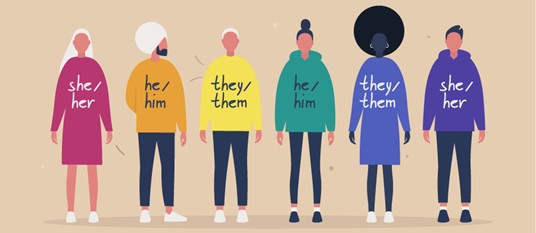 Arm is a global company with people all around the world. If you're unfamiliar with the language or names from different countries or ethnicities, it may be difficult to imply a gender from a name. Listing pronouns can help those who might not be able to imply a pronoun from a name.
Beyond the Binary
We often talk about pronouns in the context of people with trans or non-binary identities, because changing their pronoun is often one of the first steps in social transition. Transition can be a daunting prospect for a trans person and affirming a person's use of new pronouns can make a huge difference to their confidence.
People can change pronouns more than once, so displaying pronouns can keep others up to date when a person's gender may be fluid or changing. A friend of mine came out as gender fluid last year and as part of the transition process started to use gender-neutral neo-pronouns xe/xem/xeir before later coming out again as a binary trans woman and adopting feminine she/her/hers.
Sharing your own pronouns, even if they seem obvious, can also make a huge difference to those who don't use the pronouns you might think they would. If the trans people in your Zoom calls are the only ones who display their pronouns, it can feel like they're being singled out as different. This happened to me in a work meeting where there were, unusually, two trans women at the Zoom conference. Only the trans women displayed their pronouns. If even one non-trans person on the call displays their pronouns, then it can foster inclusion and let those who have diverse gender identities know they're safe and accepted.
Switching to a differently gendered pronoun doesn't always indicate social transition though. For example, some butch lesbian women might choose to use he/him/his pronouns but still have a female identity.
For example, here's what some pronouns may mean:
| | |
| --- | --- |
| she/her | A gendered pronoun typically used to refer to a woman |
| they/them | They/them is often used as a multiple-person pronoun, but it can also be used as a gender-neutral singular pronoun. This is becoming more popular as some people find their experience of their gender diverges from the binary. |
| he/them | This might mean that this person identifies as male but uses both masculine and gender-neutral pronouns. It might indicate that this person has a gender-fluid identity. Even if they aren't gender fluid or non-binary, they might simply prefer either of those pronouns. Some people with multiple pronouns like others to mix up the pronouns, e.g. sometimes use "he" and sometimes use "they", rather than choosing one that they feel comfortable with. |
| xe/xem | This is an example of a "neo-pronoun", evolving our language to allow everyone to express themselves in a way that feels right to them. |