Job header section
Senior Performance Analysis Engineer
Hardware at Arm
You know us. With 125 Arm-powered products shipped every second, we'll be in a over a trillion smart devices by 2035. Your smartphone, award-winning VR gaming, the world's fastest supercomputer – our engineers are designing the advanced core processors leading the race towards a connected, autonomous, hyper-performance future.
So, we promise you endless opportunities to experiment and go even further in hardware. From advanced core implementation to full custom physical IPs, here you'll have our backing to push limits in vital areas such as memory, IO and logic.
Revolutionary Rewards
Learning and Development
We encourage our people to upskill as much as they want with a comprehensive learning and development package which includes technical development, mentoring, internal and external conferences, tech talks, and donut sessions. Whether you want to learn a new programming language, upskill your excel skills or read the latest articles on Microprocessor reporting we are with you to Spark the worlds potential.
Sabbatical
We'll always encourage you to take plenty of annual leave, so you stay fresh and inspired. But you know what really does it? When we encourage you to take an extended, paid 4 weeks' sabbatical after 4 years of service.
Progressive Leave
You're a human being, not a resource. And so it's important to us that we're there for you at significant points in your life. That's why we offer flexible progressive leave. Whether you're having kids, acting as a primary care giver or have lost a loved one, you'll be able to put your family first without worrying about your career.
Wellbeing
We create a safe space for you to look after your mental and physical health, with support ranging from medical insurance to the workplace mental health platform Unmind. Alongside a growing number of onsite gyms, yoga, cycling and running clubs. All of which comes with a flexible working policy to ensure you can live life and be your brilliant self.
Role Overview
Job Overview:
We are looking for a hardworking, creative person for our Senior Performance analysis Engineer position who has an interest in graphics processors, performance measurements and alike - our engineers are part of crafting the next generation of Arm technology!
In 2006 Arm acquired Falanx, a small Norwegian start-up developing Graphics Processing Units. Today, the team has about 200 employees in Norway with more than 30 different nationalities. Based in Trondheim, with additional offices around the world, we are expanding into Oslo in 2023.
This position is in the PPA team (power, performance, area) at Arm Norway in Trondheim. The team acts as a sophisticated internal user of our products with the mission to measure the performance and energy efficiency in various use cases and analyse the performance to improve the products to reach maximum performance potential.
Would you like to work in a multi-site, multi-team and multi-cultural environment? Are you creative and passionate about new technologies? If so, we would love to hear from you!
Responsibilities:
Implement, debug and test features and performance optimisations in our tools used for GPU performance measurements
Work with others in the organisation to collect and understand requirements for our tools
Improve GPU performance measurement and analysis methodologies by contributing to the improvement initiatives
Have an organized and analytical approach to work, with ability to understand complex, abstract problems
Required Skills and Experience :
Experience in standard Linux tools, shell and version control systems such as git
Experience in 3D graphics technology and standards such as OpenGLES, Vulkan, OpenCL
Programming skills in C/C++, Python
"Nice To Have" Skills and Experience :
Experience with Android build system and Android devices
Experience with agile methodologies and related tools
Hands-on experience with performance analysis tools
Experience with Game engines like Unity or Unreal
In Return:
Working on interesting new projects is exciting, but we also know how important it is to receive support. We make sure you have regular catch-ups with your line manager who will be able to offer ongoing support, feedback, and development opportunities. You will also be given a certain amount of flexibility and freedom in how you decide to complete your projects/tasks.
As well as being offered a competitive salary, there are also opportunities to get involved in some of the many social events that are organized within Arm.
All arm employees are provided with training to succeed in their respective roles. We work in an inclusive and high-performance environment and Arm offers a competitive benefit package in Norway including RSU, private medical insurance, sabbatical, supplementary pension, and wellness benefits.
#LI-PD1
Accommodations at Arm
At Arm, we want our people to Do Great Things. If you need support or an accommodation to Be Your Brilliant Self during the recruitment process, please email accommodations@arm.com. To note, by sending us the requested information, you consent to its use by Arm to arrange for appropriate accommodations. All accommodation requests will be treated with confidentiality, and information concerning these requests will only be disclosed as necessary to provide the accommodation. Although this is not an exhaustive list, examples of support include breaks between interviews, having documents read aloud or office accessibility. Please email us about anything we can do to accommodate you during the recruitment process.
Equal Opportunities at Arm
Arm is an equal opportunity employer, committed to providing an environment of mutual respect where equal opportunities are available to all applicants and colleagues. We are a diverse organization of dedicated and innovative individuals, and don't discriminate on the basis of any characteristic.
Hybrid Working at Arm
Arm's hybrid approach to working is centred around flexibility, where we split our time between the office and other locations to get our work done. Within that framework, we empower groups and teams to determine their own particular hybrid working pattern, depending on the work and the team's needs. Details of what this means for each role will be shared upon application. In some cases, the flexibility we can offer is limited by local legal, regulatory, tax, or other considerations, and where this is the case, we will collaborate with you to find the best solution. Please talk to us to find out more about what this could look like for you.
Life at Arm
Life in the office doesn't get any better. Especially when those offices are as sleek as ours. And the people are as creative and intuitive. Combine that with our popular 'we, not I' mindset and you enjoy the kind of teamwork and togetherness rarely found elsewhere. We share so much in common, not least the same passion for progress, but we also welcome each other's diversity. Because, ultimately, we love to inspire and be inspired every day.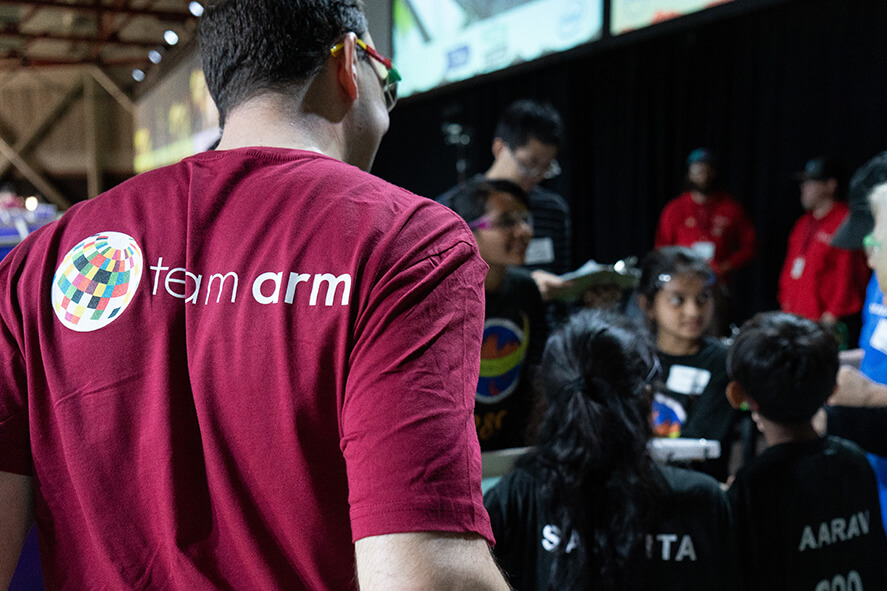 Everything Made Possible
Just how far do the possibilities of Arm's tech stretch? AI, Machine Learning, IoT… billions of people use our technology every day, spanning countless nations, industries and applications. Most people run their lives on Arm technology. So, you see: you really do know us.
Employee quotes
Arm is a transparent company, trusts its employees to deliver the best. The environment is value based. It empowers employees. Stress is on fairness, diversity and inclusion. All this without compromising on business goals and results.
Anand Hardi
Glassdoor logo
Being a father of a 5-year-old, life gets busy. Thanks to Arm's flexible approach to work, I get to attend my son's needs and cover the work in my own time, which is great.
Isuru Herath
Glassdoor logo