Senior Hardware Design Engineer
Hardware at Arm
You know us. With 125 Arm-powered products shipped every second, we'll be in a over a trillion smart devices by 2035. Your smartphone, award-winning VR gaming, the world's fastest supercomputer – our engineers are designing the advanced core processors leading the race towards a connected, autonomous, hyper-performance future.
So, we promise you endless opportunities to experiment and go even further in hardware. From advanced core implementation to full custom physical IPs, here you'll have our backing to push limits in vital areas such as memory, IO and logic.
Revolutionary Rewards
FlexPot
One benefit we're really proud of is FlexPot; a sum of money on top of your salary (which is the same value regardless of your seniority) which you can use for charitable giving, development or your personal wellbeing. Ready to start that French language course you've always wanted to do? Or are you a keen gym-goer and want to use it for a membership? There's lots different of ways to enjoy your Flexpot.
Sabbatical
We'll always encourage you to take plenty of annual leave, so you stay fresh and inspired. But you know what really does it? When we encourage you to take an extended, paid 4 weeks' sabbatical after 4 years of service. You could even combine your FlexPot allowance with your sabbatical and volunteer overseas!
Progressive Leave
You're a human being, not a resource. And so it's important to us that we're there for you at significant points in your life. That's why we offer flexible progressive leave. Whether you're having kids, acting as a primary care giver or have lost a loved one, you'll be able to put your family first without worrying about your career.
Wellbeing
We create a safe space for you to look after your mental and physical health, with support ranging from medical insurance to the workplace mental health platform Unmind. Alongside a growing number of onsite gyms, yoga, cycling and running clubs. All of which comes with a flexible working policy to ensure you can live life and be your brilliant self.
Role Overview
Location: Trondheim, Norway
Contract: Full time, Permanent
Do you want to experience the thrill of playing computer games on a graphics processor (GPU) that you have designed yourself? Then this is a fantastic opportunity for an experienced hardware design engineer to join the GPU Hardware Design Team and help us design the GPUs powering the devices of tomorrow.
If you are a forward-thinking, dedicated, creative and self-going individual that loves analysis and problem solving then we are keen to hear from you!
The GPU Design Team at the design centre in Trondheim is responsible for developing the Mali™ range of graphics processors. Mali™ is the most sold GPU in the world and a team of diverse, highly motivated and creative engineers are dreaming up improvements and technology that will make our state of the art GPU even better.
In this inventive role, you get to put your technical skills and creativity to the test while working on micro architecture development, design and optimization of GPUs that will run graphics, compute, machine learning and AI workloads at blistering speeds within a fixed energy and area budget. How cool is that?
What will I be accountable for?
You will derive specifications from architecture requirements.
You will specify, design and optimise complex blocks for use across multiple generations of GPUs.
You will deliver IP blocks on time and meeting PPA targets.
You will assume technical leadership for a block within the GPU.
Essential
You will have proven experience of RTL design for GPUs, CPUs or DSP.
You have repeated project experience of technically owning and executing the design and implementation of complex units or sub-systems, from specification to design sign-off
You can do metric driven design space exploration, including the knowledge of how to evaluate and compare different solutions and pick the one that is the best trade-off between power, performance and area requirements of the product
You have the ability to work with a high level of independence and schedule own work and tasks.
Desirable
You should have experience with high level programming in languages such as C/C++.
It is an advantage if you have knowledge of verification techniques.
It is great if you happen to be familiar with functional safety aspects of design and verification, including knowledge of ISO 26262.
Additional Information
Our Core Beliefs lie at the heart of Arm and represent the essence of our organization. When combined and working together, they articulate the uniqueness of Arm culture:
Passion for Progress
Innovation that enables our ecosystems, Arm and the team to thrive.
Work with pace and judgment. Adapt to circumstances
Take risks in support our progress
Be accountable for the decisions you make. Learn from failure
Pursue innovation relentlessly.
We, Not I
Collaboration first, egos last.
Start with long-term value to customers and partners, and work back from there
Collaborate, decide, commit, and bring people with you
Make the most of all the skills and knowledge across Arm; share information with those who need it
Collaborate with the people around you
Be your Forward-thinking Self
Skillful individuality, performance and fulfilment.
Be authentic
Seek and accept differences
Encourage curiosity and challenge
Give people trust and autonomy; show people they can trust you to do forward-thinking work in pursuit of Arm's goals
#LI-AH1
Life at Arm
Life in the office doesn't get any better. Especially when those offices are as sleek as ours. And the people are as creative and intuitive. Combine that with our popular 'we, not I' mindset and you enjoy the kind of teamwork and togetherness rarely found elsewhere. We share so much in common, not least the same passion for progress, but we also welcome each other's diversity. Because, ultimately, we love to inspire and be inspired every day.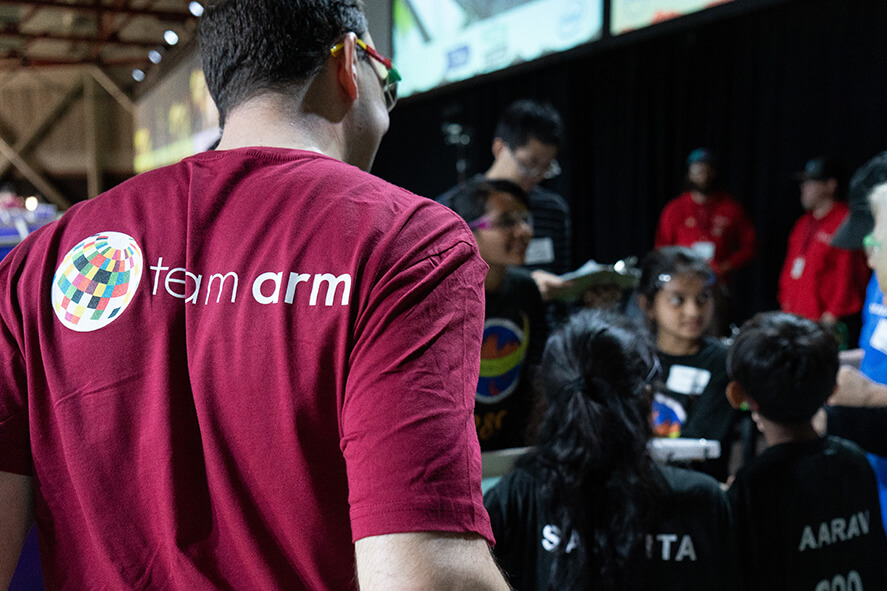 Everything Made Possible
Just how far do the possibilities of Arm's tech stretch? AI, Machine Learning, IoT… billions of people use our technology every day, spanning countless nations, industries and applications. Most people run their lives on Arm technology. So, you see: you really do know us.
Arm is a transparent company, trusts its employees to deliver the best. The environment is value based. It empowers employees. Stress is on fairness, diversity and inclusion. All this without compromising on business goals and results.
Anand Hardi
Being a father of a 5-year-old, life gets busy. Thanks to Arm's flexible approach to work, I get to attend my son's needs and cover the work in my own time, which is great.
Isuru Herath