Job header section
CPU Physical Implementation Engineer
Hardware at Arm
You know us. With 125 Arm-powered products shipped every second, we'll be in a over a trillion smart devices by 2035. Your smartphone, award-winning VR gaming, the world's fastest supercomputer – our engineers are designing the advanced core processors leading the race towards a connected, autonomous, hyper-performance future.
So, we promise you endless opportunities to experiment and go even further in hardware. From advanced core implementation to full custom physical IPs, here you'll have our backing to push limits in vital areas such as memory, IO and logic.
Revolutionary Rewards
Learning and Development
We encourage our people to upskill as much as they want with a comprehensive learning and development package which includes technical development, mentoring, internal and external conferences, tech talks, and donut sessions. Whether you want to learn a new programming language, upskill your excel skills or read the latest articles on Microprocessor reporting we are with you to Spark the worlds potential.
Sabbatical
We'll always encourage you to take plenty of annual leave, so you stay fresh and inspired. But you know what really does it? When we encourage you to take an extended, paid 4 weeks' sabbatical after 4 years of service.
Progressive Leave
You're a human being, not a resource. And so it's important to us that we're there for you at significant points in your life. That's why we offer flexible progressive leave. Whether you're having kids, acting as a primary care giver or have lost a loved one, you'll be able to put your family first without worrying about your career.
Wellbeing
We create a safe space for you to look after your mental and physical health, with support ranging from medical insurance to the workplace mental health platform Unmind. Alongside a growing number of onsite gyms, yoga, cycling and running clubs. All of which comes with a flexible working policy to ensure you can live life and be your brilliant self.
Role Overview
Do you want to help Arm and its partners to build outstanding products?
Arm's's Sophia Antipolis design centre is located in one of the most appealing parts of France, at the heart of Europe's largest and most dynamic technology park. Surrounded by mountains and the Mediterranean Sea, this exceptional design center has delivered leading products from Arm's Cortex (TM) processor family. These CPUs power some of the world's best-selling smartphones, tablets and gaming systems, using technology that has taken user experience and performance to another level.
Now, you have an opportunity to work on the next generation of processors that will appear in the most desirable products over the next 3 years. The Local design team is a good combination of very expert engineers and some of the most enthusiastic and hardworking graduates, coming from the best engineering schools. Collectively, the team is highly creative, collaborative, delivery orientated and committed.
Job Purpose
Meeting Area, Frequency and Power requirements is one of most meaningful activities in microelectronics development. We work in a close loop with micro-architecture designers and standards cells/Macro designers to build and improve metrics as well as overall quality of designs targeting 3nm and below technology nodes. Using a broad array of skills, we are also taking ownership of a complete implementation flow development from synthesis to GDSII, including static timing analysis, IR drop analysis and equivalence checking.
Key Accountabilities/Responsibilities
As a member of our implementation team, we:
Work together with IP design team to identify critical paths and timing bottlenecks across IP development, enabling accurate trade-off between the various performance metrics of the designs (frequency, IPC, power, area)
Produce Power/Performance/area figures and help improving CPU and machine learning accelerators micro architecture.
Participate in existing products benchmarking to get the best possible Quality of Results.
Education & Qualifications
University or Engineering School, in Electronic Engineering or Computer Science with experience on ASIC design flow.
Previous work in power/area/timing improvement of CPU, GPU, SOC or related IP.
Essential Skills & Experience
knowledge on synthesis/floor-planning/power planning, clock tree, place and route tools and techniques
Understanding of Power versus Performance versus Area tradeoff in typical CMOS design
Verilog or VHDL or System Verilog knowledge
Ability to schedule own workload and plan tasks
Good interpersonal skills
Desirable Skills & Experience
Knowledge of CPU, GPU, Machine learning accelerator micro-architecture concepts
Knowledge of power domain management through UPF
First exposure to advanced process nodes (16nm and below) and advanced timing analysis concept (OCV, AOCV, noise propagation)
Understanding of DFT techniques and goals
Experience of developing scripts (Python, Perl, tcl …) for automation purpose
Prior internship in SOC implementation, Sign-off or test can be an advantage
Working in UNIX/Linux environment, with bug tracking and source code control systems, especially GIT
Able to work in French and in English
#LI-WP1
Arm is an equal opportunity employer, committed to providing an environment of mutual respect where equal opportunities are available to all applicants and colleagues. We are a diverse organization of dedicated and innovative individuals, and don't discriminate on the basis of any characteristic.
Life at Arm
Life in the office doesn't get any better. Especially when those offices are as sleek as ours. And the people are as creative and intuitive. Combine that with our popular 'we, not I' mindset and you enjoy the kind of teamwork and togetherness rarely found elsewhere. We share so much in common, not least the same passion for progress, but we also welcome each other's diversity. Because, ultimately, we love to inspire and be inspired every day.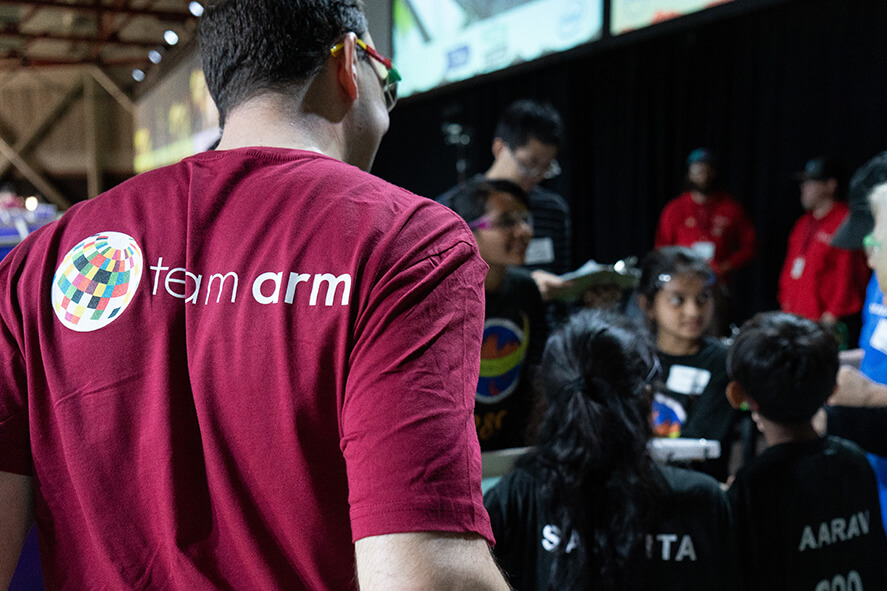 Everything Made Possible
Just how far do the possibilities of Arm's tech stretch? AI, Machine Learning, IoT… billions of people use our technology every day, spanning countless nations, industries and applications. Most people run their lives on Arm technology. So, you see: you really do know us.
Employee quotes
Arm is a transparent company, trusts its employees to deliver the best. The environment is value based. It empowers employees. Stress is on fairness, diversity and inclusion. All this without compromising on business goals and results.
Anand Hardi
Glassdoor logo
Being a father of a 5-year-old, life gets busy. Thanks to Arm's flexible approach to work, I get to attend my son's needs and cover the work in my own time, which is great.
Isuru Herath
Glassdoor logo