Job header section
Hardware Engineering Intern
Hardware at Arm
You know us. With 125 Arm-powered products shipped every second, we'll be in a over a trillion smart devices by 2035. Your smartphone, award-winning VR gaming, the world's fastest supercomputer – our engineers are designing the advanced core processors leading the race towards a connected, autonomous, hyper-performance future.
So, we promise you endless opportunities to experiment and go even further in hardware. From advanced core implementation to full custom physical IPs, here you'll have our backing to push limits in vital areas such as memory, IO and logic.
Role Overview
Haven't heard of Arm before? If you have a smartphone, digital camera, digital TV, gaming console or a smart-meter at home, you've already used an Arm powered product. See, you do know us. Our technology is simply transforming the way people live their lives. From the unmissable to the invisible, our sophisticated processor designs have enabled 200 billion Arm technology-based chips to date (that's more than 125 products shipped every second!)

Founded by a dozen engineers working from a converted barn in Cambridge 30 years ago, we have grown to over 7000 employees in offices across the globe and aim to power a trillion IoT devices by 2035. We love our jobs because they empower us to make our mark on 70% of technology used by the world's population. We are Arm. You know us. Now see why you should join us.

Are you creative, innovative, and enthusiastic about new technologies? Do you enjoy programming and have an interest in problem solving? We are looking for students who are passionate about a career in digital hardware.

At Arm, you will shape the future of technology and collaborate in the development of next-generation Media Processors, CPUs, System components and System Solutions to power billions of digital devices worldwide.
Hardware Internships
We have a wide range of vacancies for enthusiastic individuals with a willingness to learn, a passion for hardware-IP and Systems, or are willing to work somewhere between software and hardware, in one of these areas:
In the Graphics Processing Unit (GPU) group, we develop mainstream processors ranging from high-performance cores to low-power micro-controllers.
In the Central Processing Unit (CPU) group, we analyse the performance of existing and proposed technologies for CPUs using various forms of benchmarking, modelling and analysis. The insights and new technologies that we generate feed into future CPU products roadmap which are developed by the broader CPU Engineering group.
In the Systems-IP group, we build complex system IP's essential to both performance and low-power system-on-chip designs.
In the Systems Development group, we focus on large and complex system solutions where integration takes learning well beyond block level design.
In the Systems group, we design, verify, implement and make silicon for a real-world system solution
In both the GPU and the Systems groups, we have Implementation teams who build all Arm IP and systems solutions using leading silicon process nodes.

You will work on real projects from day one, with support and guidance from expert engineers. Through teamwork, training, and dedication to personal development, we ensure that every intern engineer learns about different aspects of our work and becomes an expert in your field.

You will work in a multi-site, multi-cultural environment and will have the opportunity to work on different projects and with different groups.

What will your role be?
Depending on the team, you will have opportunities to:
Write specifications for the next generation of Arm's IP products and systems, analysing trade-offs between different options via modelling in C++ or a hardware description language (HDL).
Develop IP in HDL, working with the rest of the design team to deliver a product with leading power efficiency and performance.
Verify IP to the highest quality standards using a wide range of methodologies – constrained random simulation using testbenches written in SystemVerilog, running real applications on emulation or FPGA platforms, and using formal methods.
Implement Arm IP in the innovative silicon process nodes using industry leading design automation tools.
Develop system solutions using Arm IP that will showcase the capabilities of the Arm IP portfolio.
Analysing trade-offs between different options via modelling in C++ or a hardware description.
Building new benchmarks, or creating microbenchmarks which expose the strengths and weaknesses of existing CPUs and provide insights into the technologies used within them
Adding instrumentation to C/C++ CPU models which improves our ability to understand why they perform well or poorly on a given workload and propose changes which will improve them
Modelling proposed new CPU features and measuring the performance impacts of them

Are you a good fit for Arm?


In order to be considered, you will need to be studying for a degree in either Electronic Engineering, Computer Engineering, Computer Science or other relevant subject. Other degree types may be considered with proven experience.


Remember we look for potential so the list below are not pre requisites:
Skills and experience that we look for in Hardware Implementation, Design and Verification include:
An engineering mind-set with strong analytical and problem-solving skills.
Experience of at least one programming language
Excellent attention to detail
Good interpersonal and teamwork skills co-operating with Arm team members around the world
Excellent written and spoken English communication, capable of writing coherent reports, influencing, and building consensus
Willingness to be flexible and accept new challenges
Ability to express ideas and communicate effectively

Skills we would like to see, but aren't a necessity:
Knowledge of one of the following: General CPU micro-architecture, Arm architecture, GPU, ISP (camera) or display architecture, digital electronics.
Knowledge of ASIC Systems
Knowledge of design techniques for low power
Knowledge of IC design flow and physical design. (e.g. HDL synthesis)
Familiarity with hardware description languages, such as VHDL or Verilog/SystemVerilog
Exposure to verification techniques and testbenches (e.g., UVM and Formal)
Programming languages such as: assembly language (ideally Arm assembler), higher-level (e.g. C), object-oriented (e.g. C++)
Exposure to low-level programming or driver development
Perl, Python, or other scripting language
Familiarity of Unix/Linux working environment
A keen interest in processors, digital systems, and physical IC design.
Understanding of computer architecture fundamentals
Familiarity with basic digital design concepts
In Return:

We offer internships where , you will make a real impact, while also building on key skills for your future studies and employment. We believe in developing talent for the future, and therefore aim to offer many of our interns a graduate position once they have finished their studies!

Working on interesting new projects is exciting, but we also know how important it is to receive support.

We make sure you have regular catch-ups with your line manager who will be able to offer ongoing support, feedback, and development opportunities. You will also be given a certain amount of flexibility and freedom in how you decide to complete your projects/tasks.

As well as being offered a competitive salary, there are also opportunities to get involved in some of the many social events that are organized within Arm.
#LI-HC1
Arm is an equal opportunity employer, committed to providing an environment of mutual respect where equal opportunities are available to all applicants and colleagues. We are a diverse organization of dedicated and innovative individuals, and don't discriminate on the basis of any characteristic.
Life at Arm
Life in the office doesn't get any better. Especially when those offices are as sleek as ours. And the people are as creative and intuitive. Combine that with our popular 'we, not I' mindset and you enjoy the kind of teamwork and togetherness rarely found elsewhere. We share so much in common, not least the same passion for progress, but we also welcome each other's diversity. Because, ultimately, we love to inspire and be inspired every day.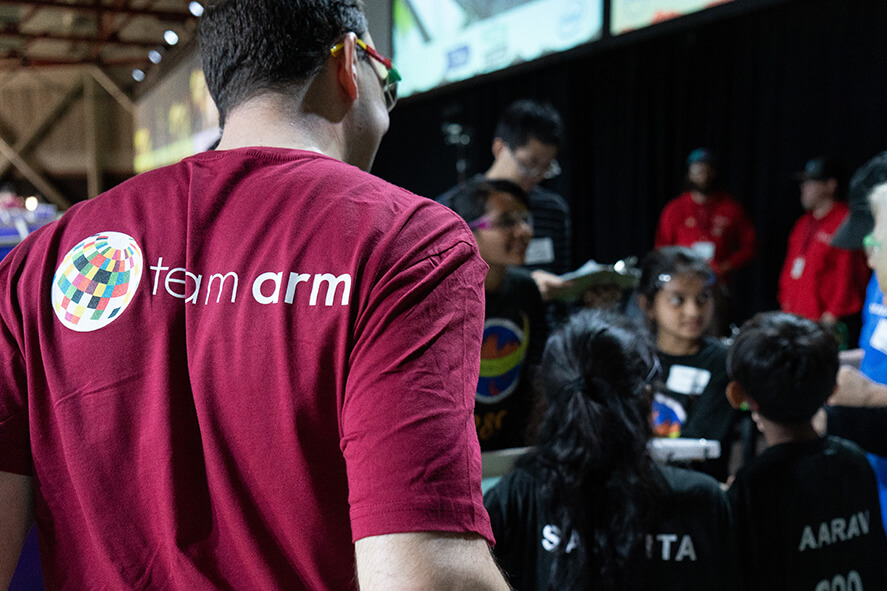 Everything Made Possible
Just how far do the possibilities of Arm's tech stretch? AI, Machine Learning, IoT… billions of people use our technology every day, spanning countless nations, industries and applications. Most people run their lives on Arm technology. So, you see: you really do know us.
Employee quotes
Arm is a transparent company, trusts its employees to deliver the best. The environment is value based. It empowers employees. Stress is on fairness, diversity and inclusion. All this without compromising on business goals and results.
Anand Hardi
Glassdoor logo
Being a father of a 5-year-old, life gets busy. Thanks to Arm's flexible approach to work, I get to attend my son's needs and cover the work in my own time, which is great.
Isuru Herath
Glassdoor logo