Graduate ML System Analysis Engineer
Start Your Career at Arm
Got a love for coding? Hardware design? IT project management? We're with you. Whatever you want to do, do it at the highest level. Arm technology is a driving force behind 95% of the planet's connected devices – from your smartphone to VR headsets to the world's fastest supercomputer. You'll master your craft while working with the biggest names in tech.
At the same time, your training and development will be second to none. We put our trust in you to work on big, global projects because you'll have our world-class mentors on your side, giving you just the right combination of freedom and support. And you'll also have your own development roadmap which you can pair with your choice workshops to take the skills you want to expert levels.
Revolutionary Rewards
FlexPot
One benefit we're really proud of is FlexPot; a sum of money on top of your salary (which is the same value regardless of your seniority) which you can use for charitable giving, development or your personal wellbeing. Ready to start that French language course you've always wanted to do? Or are you a keen gym-goer and want to use it for a membership? There's lots different of ways to enjoy your Flexpot.
Sabbatical
We'll always encourage you to take plenty of annual leave, so you stay fresh and inspired. But you know what really does it? When we encourage you to take an extended, paid 4 weeks' sabbatical after 4 years of service. You could even combine your FlexPot allowance with your sabbatical and volunteer overseas!
Progressive Leave
You're a human being, not a resource. And so it's important to us that we're there for you at significant points in your life. That's why we offer flexible progressive leave. Whether you're having kids, acting as a primary care giver or have lost a loved one, you'll be able to put your family first without worrying about your career.
Wellbeing
We create a safe space for you to look after your mental and physical health, with support ranging from medical insurance to the workplace mental health platform Unmind. Alongside a growing number of onsite gyms, yoga, cycling and running clubs. All of which comes with a flexible working policy to ensure you can live life and be your brilliant self.
Role Overview
We have a great opportunity for a Graduate System Test Engineer to join our Machine Learning System Analysis team in Lund, Sweden. If you would like to shape the future of mobile devices, then read on!
You will have the chance to join a multinational, highly motivated and cross-site team. The team is responsible for verification and performance analysis of our ML specific HW accelerators.
Working in our dynamic and diverse teams usually involves developing and executing automated tests for our software and hardware IP. The work requires a broad technical competence to face the ever new challenges when testing our state of the art technology on new platforms and operating systems.
A typical day includes a variety of tasks, such as automating test applications in automation framework, analysing and designing tests for new product features and requirements, bug handling, debugging, deeper performance analysis and result presentation.
You recently graduated or are about to graduate with a Bachelor's or Master's degree in Computer science, Electrical engineering or a related field with a good academic record.
Please include your University Transcript (Grade sheet) to your application together with your English CV
Essential Skills & Experience
Python, bash, or other scripting languages
Experience and familiarity with high level programming languages (e.g. C, Java)
High degree of initiative and a confident problem solver
Proficient in English language
Good communicator
Passionate about learning new technologies
Desirable Skills & Experience
Testing and test automation
Linux development environments
Android
Flask, Javascript, Docker, MySQL and MongoDB
Our Core Beliefs lie at the heart of Arm and represent the essence of our organization. When combined and working together, they articulate the uniqueness of Arm culture:
Passion for Progress
Innovation that enables our ecosystems, Arm and our people to thrive.
Work with pace and judgment. Adapt to circumstances
Take risks in support of Arm's progress
Be accountable for the decisions you make. Learn from failure
Pursue innovation relentlessly.
We, Not I
Collaboration first, egos last.
Start with long-term value to customers and partners, and work back from there
Collaborate, decide, commit, and bring people with you
Make the most of all the skills and knowledge across Arm; share information with those who need it
Care about the people around you
Be your Forward-thinking Self
Skillful individuality, performance and fulfilment.
Be authentic
Seek and embrace differences
Encourage curiosity and challenge
Give people trust and autonomy; show people they can trust you to do forward-thinking work in pursuit of Arm's goals
#LI-AH1
Arm is an equal opportunity employer, committed to providing an environment of mutual respect where equal opportunities are available to all applicants and colleagues. We are a diverse organization of dedicated and innovative individuals, and don't discriminate on the basis of any characteristic.
Life at Arm
There's an open and casual atmosphere here that's so characteristic of Arm. We build spaces for continuous learning and creative expression. No matter the level of person you're approaching, they're always ready for a down-to-earth conversation. And it's easy to make friends with such a diverse network of graduates, interns, part-time undergraduates and apprentices all sticking together. Because diversity is essential to how we innovate – one reason why we're promoting more women into leadership positions.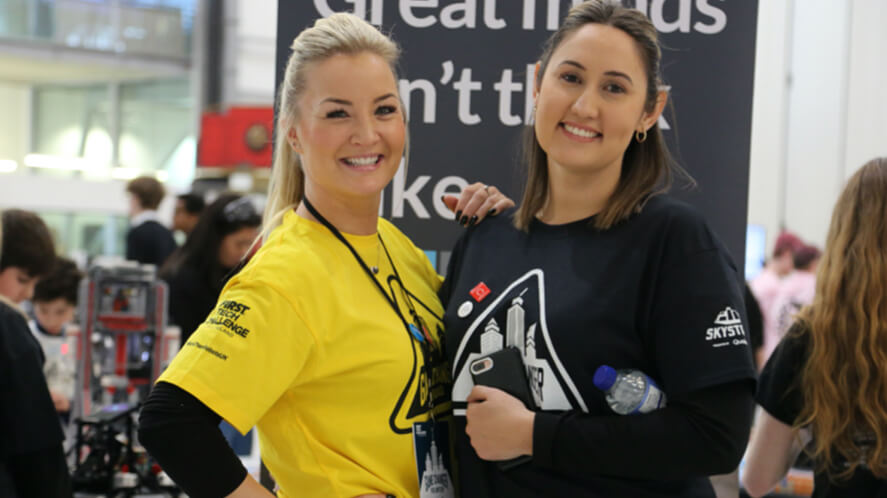 Everything Made Possible
Just how far do the possibilities of Arm's tech stretch? AI, Machine Learning, IoT… billions of people use our technology every day, spanning countless nations, industries, and applications. So much so, there's virtually never a time or place we're not with you.
I was really surprised by how international the environment is. I knew Arm was an international company, but I didn't expect to meet people from all over the world while working in the Cambridge office.
Caroline Galliez
It's great to know that the code I write makes a real difference in the world. Bugs I find could potentially prevent crucial vulnerabilities in Arm's designs later down the line.
Katie Worton
I'm proud to work for Arm, whose designs are powering disruptive technologies like Artificial Intelligence and Internet of Things.
Mai Pham
As a graduate, I enjoyed working on interesting projects and being a valuable member of every team I rotated through.
Chris Loper
You get to work on advanced concepts and ideas that will become the foundation of future technology.
Shubhang Prasanna