Hardware at Arm
You know us. With 125 Arm-powered products shipped every second, we'll be in a over a trillion smart devices by 2035. Your smartphone, award-winning VR gaming, the world's fastest supercomputer – our engineers are designing the advanced core processors leading the race towards a connected, autonomous, hyper-performance future.
So, we promise you endless opportunities to experiment and go even further in hardware. From advanced core implementation to full custom physical IPs, here you'll have our backing to push limits in vital areas such as memory, IO and logic.
Role Overview
The Arm Sweden office develops the Mali Graphics Processor (GPU) and the Ethos Neural Processor (NPU).


The open role is as an intern in the GPU architecture team. The team takes a medium-long term view of the GPU development, finding and prioritizing new techniques to improve the feature-set, performance and area of the Mali GPU.
The team is spread across the Arm sites in Lund, Trondheim (Norway), Cambridge (UK), Austin and San Francisco (USA)


Responsibilities:

A general goal of a GPU is to minimize the time it takes to draw graphical images. This way the frame rate of running games or applications can be improved, which leads to a better experience for the end-user. The work of rendering one frame can be split into a large number of smaller tasks, that are each running simultaneously. The way these smaller tasks are scheduled has an impact on how efficiently the available hardware resources can be used.


The task for this intern role is to find scheduling heuristics that ultimately improve GPU rendering performance. The work is done by looking for metrics that can guide a scheduling control algorithm to make better decisions and to test and evaluate such algorithms.


Required Skills and Experience:

In order to be considered, you will be studying Electronic Engineering, Computer Engineering, Computer Science, or other relevant subjects. Other degree types may be considered with meaningful experience.
A keen curiosity about processors and digital systems
Understanding of computer architecture and micro-architecture concepts
"Nice To Have" Skills and Experience:
Excellent attention to detail
Creativity and ability to communicate ideas efficiently
Good interpersonal and teamwork skills
Meriting is experience in control theory (Swedish: reglerteknik), through course work or elsewhere
In Return:

We offer internships where you will make a real impact, while also building on key skills for your future studies and employment.


Working on interesting new projects is exciting, but we also know how important it is to receive support. We make sure you have regular catch-ups with your line manager who will be able to offer ongoing support, feedback, and development opportunities. You will also be given a certain amount of flexibility and freedom in how you decide to complete your projects/tasks.


As well as being offered a competitive salary, there are also opportunities to get involved in some of the many social events that are organized within Arm!

#LI-PK2
Arm is an equal opportunity employer, committed to providing an environment of mutual respect where equal opportunities are available to all applicants and colleagues. We are a diverse organization of dedicated and innovative individuals, and don't discriminate on the basis of any characteristic.
Life at Arm
Life in the office doesn't get any better. Especially when those offices are as sleek as ours. And the people are as creative and intuitive. Combine that with our popular 'we, not I' mindset and you enjoy the kind of teamwork and togetherness rarely found elsewhere. We share so much in common, not least the same passion for progress, but we also welcome each other's diversity. Because, ultimately, we love to inspire and be inspired every day.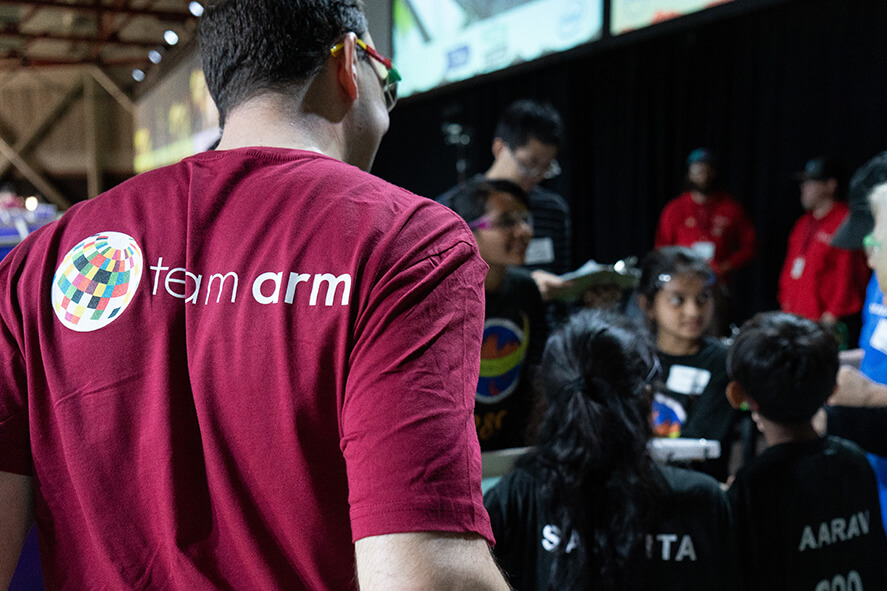 Everything Made Possible
Just how far do the possibilities of Arm's tech stretch? AI, Machine Learning, IoT… billions of people use our technology every day, spanning countless nations, industries and applications. Most people run their lives on Arm technology. So, you see: you really do know us.
Employee quotes
Arm is a transparent company, trusts its employees to deliver the best. The environment is value based. It empowers employees. Stress is on fairness, diversity and inclusion. All this without compromising on business goals and results.
Anand Hardi
Glassdoor logo
Being a father of a 5-year-old, life gets busy. Thanks to Arm's flexible approach to work, I get to attend my son's needs and cover the work in my own time, which is great.
Isuru Herath
Glassdoor logo