Job header section
Staff Software Engineer - Storage
Software Engineering at Arm
You might not think you know us, but you do. Our software is all over Silicon Valley. In fact, it's right in the palm of your hand. Because the biggest names in tech, from your smartphone brand to the makers of the world's fastest supercomputer look to us for the most powerful advanced core processors.
When you think about what software development can stretch to at Arm, from physical IP to machine learning, you'll wonder why you didn't apply sooner. The real-world applications for our technology are so massive, your work will influence the lives up to 70% of the global population, whether it's through award-winning VR gaming or life-enhancing medical equipment. Here you'll develop a better, connected future.
Revolutionary Rewards
Learning and Development
We encourage our people to upskill as much as they want with a comprehensive learning and development package which includes technical development, mentoring, internal and external conferences, tech talks, and donut sessions. Whether you want to learn a new programming language, upskill your excel skills or read the latest articles on Microprocessor reporting we are with you to Spark the worlds potential.
Sabbatical
We'll always encourage you to take plenty of annual leave, so you stay fresh and inspired. But you know what really does it? When we encourage you to take an extended, paid 4 weeks' sabbatical after 4 years of service.
Progressive Leave
You're a human being, not a resource. And so it's important to us that we're there for you at significant points in your life. That's why we offer flexible progressive leave. Whether you're having kids, acting as a primary care giver or have lost a loved one, you'll be able to put your family first without worrying about your career.
Wellbeing
We create a safe space for you to look after your mental and physical health, with support ranging from medical insurance to the workplace mental health platform Unmind. Alongside a growing number of onsite gyms, yoga, cycling and running clubs. All of which comes with a flexible working policy to ensure you can live life and be your brilliant self.
Role Overview
Job Overview:

The Open-Source Software (OSS) team is responsible for developing and improving the software ecosystem around Arm's next generation of applications processors. This frequently means working with processors and other hardware technology not yet available to the public.
We work on a range of development platforms, software-models, FPGAs and early silicon, sometimes many months before the processors are used in real products.
You will have the opportunity to improve your knowledge and expertise, provide optimizations to open source components (SPDK, Ceph, ROOK, OpenEBS, etc) of storage stack and build reference solutions on Arm. These contributions will help drive the development of sophisticated storage software stacks that form the basis for future solutions. We seek individuals with exposure and knowledge of every layer of the storage software stack ranging from kernel, common libraries and algorithms, distributed storage components and solutions. If you are similarly passionate about innovative technologies, then we would love to hear from you!

Responsibilities:
Collaborate with internal/external partners to understand storage related requirements on Arm servers.
Work with Arm internal teams and external partners to identify missing SW blocks and bottlenecks, enable and optimize related storage SW stack on Arm servers.
Work with open source communities to upstream patches and maintain code.
Collaborate with other architects/engineers to influence Arm technology.
Required Skills and Experience:
Bachelors, Masters, or Ph.D. degree in Electrical Engineering, Computer Engineering, Computer Science or established experience in storage software development and optimization.
Proficiency in C/C++/Assembly, experience in other programming languages, e.g. Java, Go, Python, etc is a good plus.
Experience in at least one of the following areas: PCIe, CXL, block storage, object storage, and file system.
Decent understanding of modern CPU architecture. A familiarity with concepts such as pipelines, caches, MMU and NUMA, and how these hardware facts impact high-level software performance.
Expertise in debugging and optimizing sophisticated software systems.
As well as curiosity; demonstrates technical leadership, sharing knowledge and mentoring others.
Clear and effective communication skills. Outstanding interpersonal and relationship building skills.
Able to work in complex environments under pressure with teamwork spirit, collaborate with colleagues in other groups and sites, effective time-management and prioritization skills.
"Nice To Have" Skills and Experience:
Good understanding of the AArch64 architecture.
Experience with working with open-source communities. We value familiarity with open-source project development cycles and contribution processes.
Understanding of I/O and networking and their impact on server-side application performance.
Experience with kernel bypass (RDMA, DPDK, SPDK) would be looked upon favourably.
Experience with cloud native technologies such as Kubernetes, CSI.
Familiar with cloud storage system deployment techniques like Ansible.
Familiar with testing methodology and test automation. An awareness about the value of CI and automated test system.
#LI-MS
Equal Opportunities at Arm
Arm is an equal opportunity employer, committed to providing an environment of mutual respect where equal opportunities are available to all applicants and colleagues. We are a diverse organization of dedicated and innovative individuals, and don't discriminate on the basis of any characteristic.
Hybrid Working at Arm
Arm's hybrid approach to working is centred around flexibility, where we split our time between the office and other locations to get our work done. We empower groups/teams to determine their hybrid working pattern, with an expected minimum attendance in the office of 20% per month, depending on the work, level of experience and team's needs. In some cases, the flexibility we can offer is limited by local legal, regulatory, tax, or other considerations, and where this is the case, we will collaborate with you to find the best solution.
Life at Arm
Life in the office doesn't get any better. Especially when those offices are as sleek as ours. And the people are as creative and intuitive. Combine that with our popular 'we, not I' mindset and you enjoy the kind of teamwork and togetherness rarely found elsewhere. We share so much in common, not least the same passion for progress, but we also welcome each other's diversity. Because, ultimately, we love to inspire and be inspired every day.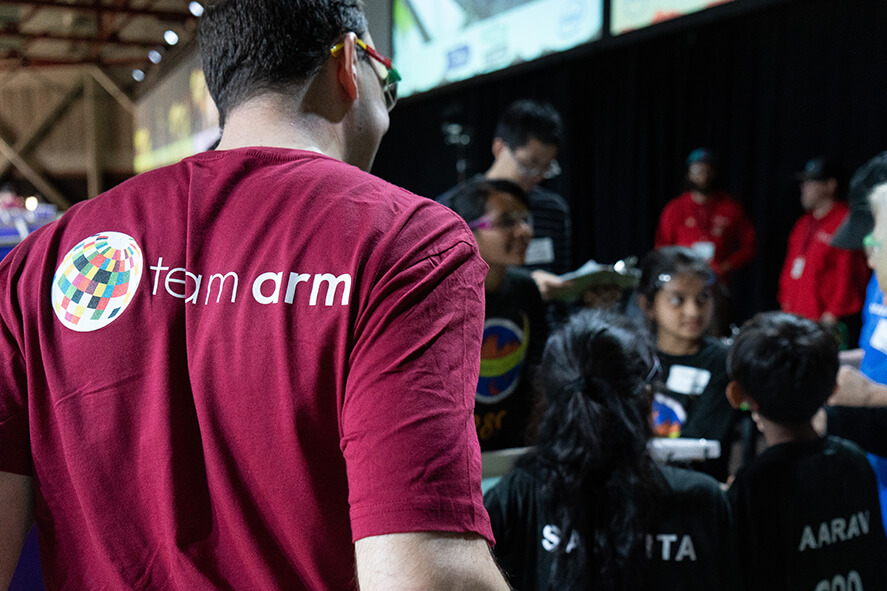 Everything Made Possible
Just how far do the possibilities of Arm's tech stretch? AI, Machine Learning, IoT… billions of people use our technology every day, spanning countless nations, industries and applications. Most people run their lives on Arm technology. So, you see: you really do know us.
Employee quotes
I'm loving my job as a Senior Software Engineer because I get to work with the latest cloud technologies like AWS and Kubernetes to try and make our engineers more efficient and making continuous delivery systems.
Sophie Carsten
Glassdoor logo
Being a Software Engineer at Arm means that you'll have the opportunity to work on ground-breaking technology that shape the world around us.
Konstantinos Monachopoulos
Glassdoor logo
The Arm technology has a massive impact on the world and you can see that from the 2000 people we were a few years ago to the 6000 we are today. That in itself leads to loads of opportunities to work on cool stuff and for your career.
Ross Keeping
Glassdoor logo
If you're a Software Engineer with generic skill sets, whether that's C, Python or whatever it might be – you'd come here to beat problems on a scale that no one else is doing.
Michael Williams
Glassdoor logo