Job header section
Staff GPU Debug Infrastructure Developer
Hardware at Arm
You know us. With 125 Arm-powered products shipped every second, we'll be in a over a trillion smart devices by 2035. Your smartphone, award-winning VR gaming, the world's fastest supercomputer – our engineers are designing the advanced core processors leading the race towards a connected, autonomous, hyper-performance future.
So, we promise you endless opportunities to experiment and go even further in hardware. From advanced core implementation to full custom physical IPs, here you'll have our backing to push limits in vital areas such as memory, IO and logic.
Revolutionary Rewards
Learning and Development
We encourage our people to upskill as much as they want with a comprehensive learning and development package which includes technical development, mentoring, internal and external conferences, tech talks, and donut sessions. Whether you want to learn a new programming language, upskill your excel skills or read the latest articles on Microprocessor reporting we are with you to Spark the worlds potential.
Sabbatical
We'll always encourage you to take plenty of annual leave, so you stay fresh and inspired. But you know what really does it? When we encourage you to take an extended, paid 4 weeks' sabbatical after 4 years of service.
Progressive Leave
You're a human being, not a resource. And so it's important to us that we're there for you at significant points in your life. That's why we offer flexible progressive leave. Whether you're having kids, acting as a primary care giver or have lost a loved one, you'll be able to put your family first without worrying about your career.
Wellbeing
We create a safe space for you to look after your mental and physical health, with support ranging from medical insurance to the workplace mental health platform Unmind. Alongside a growing number of onsite gyms, yoga, cycling and running clubs. All of which comes with a flexible working policy to ensure you can live life and be your brilliant self.
Role Overview
GPU Debug Infrastructure Developer
The GPU Engineering Division require an experienced and highly motivated debug infrastructure developer to join a fast growing team and verify our next generation of pioneering GPUs. Our team predominantly employs taking issues from FPGA's and debugging them on emulation or simulation platforms using machine parsable outputs and waveforms. You will play a key role in the team – both with hands-on project work, crafting and deploying new tools and methodologies within the team. Please do not hesitate to apply if you have any of the experience listed below.

About the team

Working in our main office, located in Cambridge within a team that spans three sites across Europe. The team includes design, verification and modelling engineers working on the next gen graphics processors. Given the span of the team, there may be opportunity for travel to other sites during your work.

About GPU Engineering

GPU Engineering produces media processing hardware and software products for mobile and embedded devices. Our Mali™ Graphics Processor is the world's #1 shipping GPU!

Now we are entering into a new growth phase to provide new technologies and products for new and existing markets and are looking for not just hardworking people but those that are inquisitive to join the team.

We work with the globe's best companies, making world-leading products based on our IP alongside the best engineers in the world. We are a distributed team working across numerous sites and cultures. Your ideas will make a difference and you will have the opportunity to lead, challenge the status quo and ultimately change the world of media processing.

Please have a look at the following video to see what it's like to work in our team: https://youtu.be/F4tNBNBgYEY

The Role:

The role covers development and deployment of methodologies as well as direct hands-on test bench development. Your responsibilities will be:
Implementing GLES, OpenGL, Vulkan APIs into verification scenarios
Reviewing and assessing proposed design changes
Extracting data from IP and building GPU level views of performed SW.
Expected to investigate and script new verification flows and optimizing existing flows
You will be required to have an overview understanding of the GPU HW and its features per project. Ensuring we deliver a high quality product.
Debug sophisticated IP using scripts and waveforms, especially understanding CPU Tarmac outputs.
Investigating areas of methodology improvements and deploying within the group and having full ownership of verification closure.

What skills, experience and qualifications do I need?

Encouraged to have a proven record with debug tool development including ownership of a suitably sophisticated libraries. Be comfortable using C to modify kernel codebase and be familiar with the tools and processes for developing test benches which run on FPGA or Emulators. You are capable of developing debug flows to the best use of EDA tools.

Essential Attributes
Strong experience with Python & C for complex tooling.
Experience of architecting and implementing functional verification environments for complex IP.
Experience developing re-usable and scalable code whilst having solid understanding of low level C.
Excellent UNIX scripting skills – being able to develop scripting to support new flows.
Knowledgeable on how to setup and run Jenkins Pipelines
Experience of developing or working with CoreSight debug frameworks.
You should have the ability to quickly understand and apply complex specification details and capable of owning all stages of a project to completion.
Commit to tackle multifaceted and sophisticated technical challenges.
Strong communication skills and passionate to work well as part of a team as well as experience working and communicating with remote design centers.
Must be able to work delivering to internal customers, collaborating with multiple team members to provide the technically best solution.
A person interested in crossing the HW & SW domains of GPU development.
Experience of working with FPGA prototype boards or Emulators for debugging designs.

Desirable Attributes
Knowledge of SystemVerilog DPI or Emulator Transactor technologies
Linux Embedded Systems knowledge
Knowledge or understanding of graphics principles.
Ability to build Android or Linux systems and comfortable working in a Linux shell environment
Experience with formal verification.
Experience with emulation flows.
Willingness to travel to Arm sites within Europe
#LI-SM1
Arm is an equal opportunity employer, committed to providing an environment of mutual respect where equal opportunities are available to all applicants and colleagues. We are a diverse organization of dedicated and innovative individuals, and don't discriminate on the basis of any characteristic.
Life at Arm
Life in the office doesn't get any better. Especially when those offices are as sleek as ours. And the people are as creative and intuitive. Combine that with our popular 'we, not I' mindset and you enjoy the kind of teamwork and togetherness rarely found elsewhere. We share so much in common, not least the same passion for progress, but we also welcome each other's diversity. Because, ultimately, we love to inspire and be inspired every day.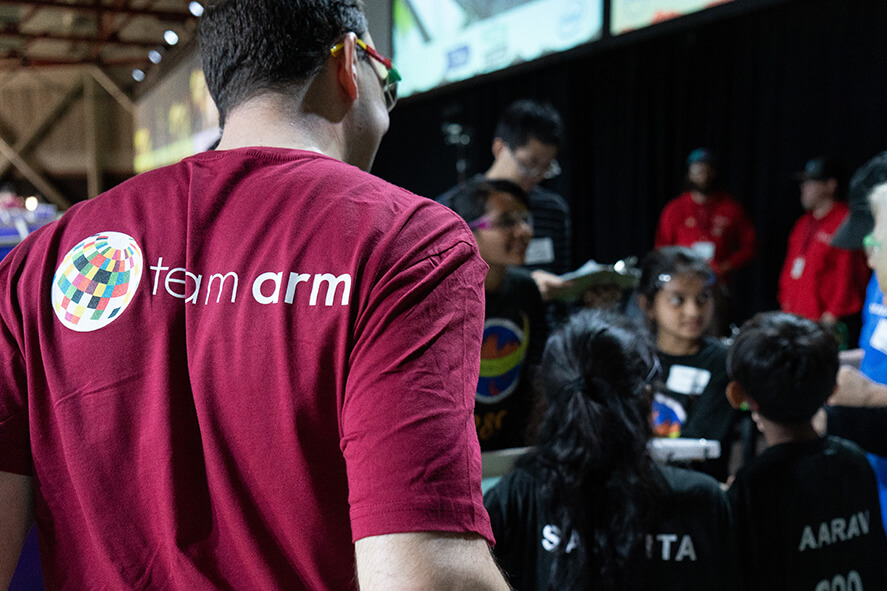 Everything Made Possible
Just how far do the possibilities of Arm's tech stretch? AI, Machine Learning, IoT… billions of people use our technology every day, spanning countless nations, industries and applications. Most people run their lives on Arm technology. So, you see: you really do know us.
Employee quotes
Arm is a transparent company, trusts its employees to deliver the best. The environment is value based. It empowers employees. Stress is on fairness, diversity and inclusion. All this without compromising on business goals and results.
Anand Hardi
Glassdoor logo
Being a father of a 5-year-old, life gets busy. Thanks to Arm's flexible approach to work, I get to attend my son's needs and cover the work in my own time, which is great.
Isuru Herath
Glassdoor logo