Software Engineering at Arm
You might not think you know us, but you do. Our software is all over Silicon Valley. In fact, it's right in the palm of your hand. Because the biggest names in tech, from your smartphone brand to the makers of the world's fastest supercomputer look to us for the most powerful advanced core processors.
When you think about what software development can stretch to at Arm, from physical IP to machine learning, you'll wonder why you didn't apply sooner. The real-world applications for our technology are so massive, your work will influence the lives up to 70% of the global population, whether it's through award-winning VR gaming or life-enhancing medical equipment. Here you'll develop a better, connected future.
Revolutionary Rewards
FlexPot
One benefit we're really proud of is FlexPot; a sum of money on top of your salary (which is the same value regardless of your seniority) which you can use for charitable giving, development or your personal wellbeing. Ready to start that French language course you've always wanted to do? Or are you a keen gym-goer and want to use it for a membership? There's lots different of ways to enjoy your Flexpot.
Sabbatical
We'll always encourage you to take plenty of annual leave, so you stay fresh and inspired. But you know what really does it? When we encourage you to take an extended, paid 4 weeks' sabbatical after 4 years of service. You could even combine your FlexPot allowance with your sabbatical and volunteer overseas!
Progressive Leave
You're a human being, not a resource. And so it's important to us that we're there for you at significant points in your life. That's why we offer flexible progressive leave. Whether you're having kids, acting as a primary care giver or have lost a loved one, you'll be able to put your family first without worrying about your career.
Wellbeing
We create a safe space for you to look after your mental and physical health, with support ranging from medical insurance to the workplace mental health platform Unmind. Alongside a growing number of onsite gyms, yoga, cycling and running clubs. All of which comes with a flexible working policy to ensure you can live life and be your brilliant self.
Role Overview
Looking for the next step in your career path? Accelerate your engineering skills and knowledge by joining a Cambridge success story and collaborating on technology that will be meaningful for decades to come. We are a large team, full of experts who would love to teach the next generation how to do what we do.
Arm designs and validates the new components for markets such as machine learning, high performance computing, mobile and the Internet of Things (IoT). The 'Fast Models' team provide Arm's partners - and engineers within the company - with simulations of Arm components that enable them to build models of devices that don't yet exist and begin writing software shortly after the design is conceived. Software developed on the models should work on hardware as soon as it is available; the model should also run as quickly as possible. Accuracy is achieved through close relationships with architects and users; the performance comes from using novel programming techniques.
What you will do:
Learn about architectures and hardware designs while they are in development
Implement fast, accurate models in C++11/14 and write unit tests
Apply your creativity to improve the code
Provide feedback to designers
Participate in an Agile team
Benefit from our new offices and solid DevOps support
Use high end development and HPC equipment
You will have a good degree in a computing, mathematical or scientific subject
You have a few years of professional experience writing object-oriented code in C++
You are enthused by new technologies and passionate about software
What will make you stand out:
Knowledge of Arm architectures
Experience with modern C++ (C++11/14) or Python
Experience of cross-platform development for Linux and Windows
Any use of modelling technologies, like SystemC or gem5
If this sounds like you, please don't hesitate to apply - we look forward to welcoming you to the team.
Location
This position is at our headquarters in Cambridge, UK, which hosts diverse teams from across Arm including CPU design teams, GPU design teams, Open Source software development, technical communications, DevOps infrastructure provision and our customer facing support teams. Cambridge is a seamless blend of distinguished historic institutions and cutting edge technology at the centre of 'Silicon Fen'. Our office is a new modern building with excellent facilities.

Our Core Beliefs lie at the heart of Arm and represent the essence of our organization. When combined and working together, they articulate the uniqueness of Arm culture:
Passion for Progress
Innovation that enables our ecosystems, Arm and our people to thrive.
Work with pace and judgment. Adapt to circumstances.
Take risks in support of Arm's progress.
Be accountable for the decisions you make. Learn from failure.
Pursue innovation relentlessly.
We, Not I
Collaboration first, egos last.
Start with long-term value to customers and partners, and work back from there.
Collaborate, decide, commit, and bring people with you.
Make the most of all the skills and knowledge across Arm; share information with those who need it.
Care about the people around you.
Be your Brilliant Self
Skillful individuality, performance and fulfilment.
Be authentic.
Seek and embrace differences.
Encourage curiosity and challenge.
Give people trust and autonomy; show people they can trust you to do brilliant work in pursuit of Arm's goals.
Arm has a responsibility to ensure that all employees are eligible to live and work in the UK.
#LI-ZN1
Life at Arm
Life in the office doesn't get any better. Especially when those offices are as sleek as ours. And the people are as creative and intuitive. Combine that with our popular 'we, not I' mindset and you enjoy the kind of teamwork and togetherness rarely found elsewhere. We share so much in common, not least the same passion for progress, but we also welcome each other's diversity. Because, ultimately, we love to inspire and be inspired every day.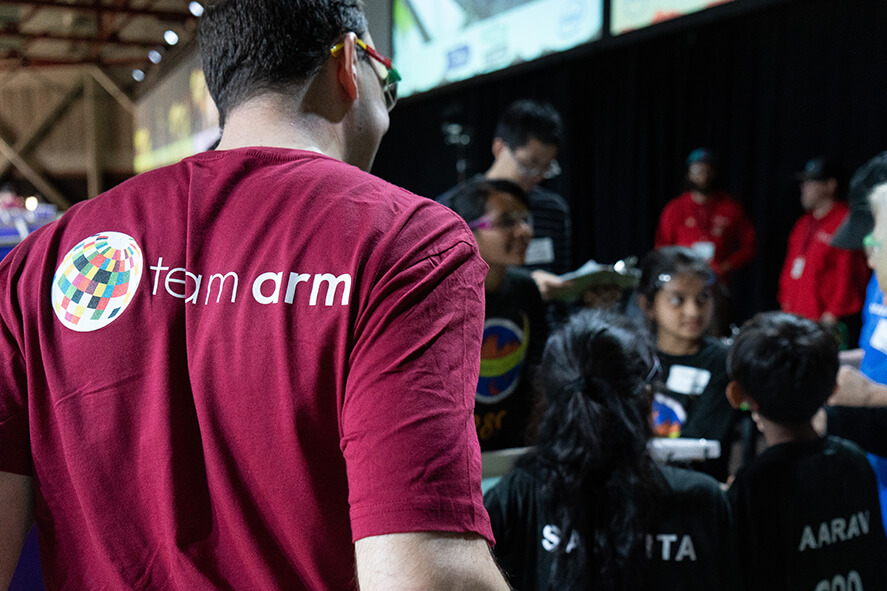 Everything Made Possible
Just how far do the possibilities of Arm's tech stretch? AI, Machine Learning, IoT… billions of people use our technology every day, spanning countless nations, industries and applications. Most people run their lives on Arm technology. So, you see: you really do know us.
I'm loving my job as a Senior Software Engineer because I get to work with the latest cloud technologies like AWS and Kubernetes to try and make our engineers more efficient and making continuous delivery systems.
Sophie Carsten
Being a Software Engineer at Arm means that you'll have the opportunity to work on ground-breaking technology that shape the world around us.
Konstantinos Monachopoulos
The Arm technology has a massive impact on the world and you can see that from the 2000 people we were a few years ago to the 6000 we are today. That in itself leads to loads of opportunities to work on cool stuff and for your career.
Ross Keeping
If you're a Software Engineer with generic skill sets, whether that's C, Python or whatever it might be – you'd come here to beat problems on a scale that no one else is doing.
Michael Williams