Job header section
Software Engineer - Developer Relations
Start Your Career at Arm
Got a love for coding? Hardware design? IT project management? We're with you. Whatever you want to do, do it at the highest level. Arm is the driving force behind 70% of technology used by the world's population – from your smartphone to VR headsets to the world's fastest supercomputer. You'll master your craft while working with the biggest names in tech.
At the same time, your training and development will be second to none. We put our trust in you to work on big, global projects because you'll have our world-class mentors on your side, giving you just the right combination of freedom and support. And you'll also have your own development roadmap which you can pair with your choice workshops to take the skills you want to expert levels.
Revolutionary Rewards
Learning and Development
We encourage our people to upskill as much as they want with a comprehensive learning and development package which includes technical development, mentoring, internal and external conferences, tech talks, and donut sessions. Whether you want to learn a new programming language, upskill your excel skills or read the latest articles on Microprocessor reporting we are with you to Spark the worlds potential.
Sabbatical
We'll always encourage you to take plenty of annual leave, so you stay fresh and inspired. But you know what really does it? When we encourage you to take an extended, paid 4 weeks' sabbatical after 4 years of service.
Progressive Leave
You're a human being, not a resource. And so it's important to us that we're there for you at significant points in your life. That's why we offer flexible progressive leave. Whether you're having kids, acting as a primary care giver or have lost a loved one, you'll be able to put your family first without worrying about your career.
Wellbeing
We create a safe space for you to look after your mental and physical health, with support ranging from medical insurance to the workplace mental health platform Unmind. Alongside a growing number of onsite gyms, yoga, cycling and running clubs. All of which comes with a flexible working policy to ensure you can live life and be your brilliant self.
Role Overview
Job Overview:

Do you love finding answers to sophisticated problems? When you write software, do you think of how to make software better for other software developers? The Developer Relations Team is looking to recruit an enthusiastic software engineer to interact and establish relationships with some of the most innovative games companies in the industry!


Responsibilities:

This role bridges finding deep technical problem solving for our partner's questions, to collaborating with our partners to find their exact needs. You'll be identifying issues and producing solutions and feedback for partners.

The role involves presenting your findings and explaining solutions to both partners and the engineering teams at Arm, as well as giving recommendations to improve performance for the future. You'll be working closely with internal software product development and graphics research teams, provide valuable insight for the GPU engineering teams, and be part of the teams looking at the long-term vision for how Arm's technology is used. You will have strong analytic and communication skills to work independently and collaboratively with internal teams to solve customer raised issues and requests related to GPUs, games and graphics.


The role is also responsible for creating and maintaining links to our partners. As part of the Developer Relations Team, this will involve attending conferences and partner meetings, and creating engaging content based on building strong links in the gaming industry. You will also help represent the voice of the developer to internal and external team members regarding their technology outlook, and how developers use software in real world use cases. Expect to develop material around the capabilities and opportunities for Arm across our graphics and gaming outreach programs.


Required Skills and Experience:
Great communication skills: ability to express ideas and connect with other team members, customers and the wider developer community Arm engages with.
Have crafted Android applications or mobile games in the past.
Working knowledge of C++ and C#.
Familiarity with Unity or Unreal, Vulkan or OpenGL ES, or willing to learn more about game engines and graphics APIs.
Curiosity about the GPU hardware and software stacks at Arm and learning how to extract the best possible performance in real-world use-cases.


"Nice To Have" Skills and Experience:
Experience with performance profiling tools for mobile
Experience with shader development and optimization
Understanding of power modelling and analysis along with code optimization for GPUs is useful for this role.
Knowledge of mobile GPU architectures, and how they compare to desktop/console GPUs
Familiarity with open-source software would be appreciated, as well as having an interest in keeping up with new graphics technologies.
Have written or presented technical work in the form of blogs, videos, technical papers, and roadmaps.


In Return:

All arm employees are provided with vital training to succeed in their respective roles. As well as a friendly and high-performance working environment, Arm offers a competitive benefits package including private medical insurance, sabbatical, supplementary pension, and wellness benefits.


We are offering a hybrid approach to home and office working to provide an adaptable experience for all employees. We expect some working time to be spent in office, to promote a strong collaborative environment with good team integration but are accommodating to different home working requirements.
#li-jw1
Equal Opportunities at Arm
Arm is an equal opportunity employer, committed to providing an environment of mutual respect where equal opportunities are available to all applicants and colleagues. We are a diverse organization of dedicated and innovative individuals, and don't discriminate on the basis of any characteristic.
Hybrid Working at Arm
Arm's hybrid approach to working is centred around flexibility, where we split our time between the office and other locations to get our work done. We empower groups/teams to determine their hybrid working pattern, with an expected minimum attendance in the office of 20% per month, depending on the work, level of experience and team's needs. In some cases, the flexibility we can offer is limited by local legal, regulatory, tax, or other considerations, and where this is the case, we will collaborate with you to find the best solution.
Life at Arm
There's an open and casual atmosphere here that's so characteristic of Arm. We build spaces for continuous learning and creative expression. No matter the level of person you're approaching, they're always ready for a down-to-earth conversation. And it's easy to make friends with such a diverse network of graduates, interns, part-time undergraduates and apprentices all sticking together. Because diversity is essential to how we innovate – one reason why we're promoting more women into leadership positions.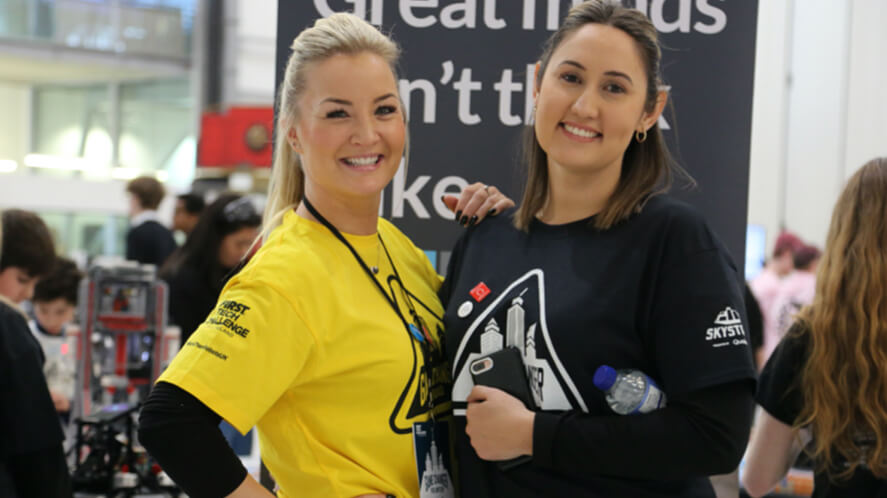 Everything Made Possible
Just how far do the possibilities of Arm's tech stretch? AI, Machine Learning, IoT… billions of people use our technology every day, spanning countless nations, industries, and applications. So much so, there's virtually never a time or place we're not with you.
Employee quotes
I was really surprised by how international the environment is. I knew Arm was an international company, but I didn't expect to meet people from all over the world while working in the Cambridge office.
Caroline Galliez
Glassdoor logo
It's great to know that the code I write makes a real difference in the world. Bugs I find could potentially prevent crucial vulnerabilities in Arm's designs later down the line.
Katie Worton
Glassdoor logo
I'm proud to work for Arm, whose designs are powering disruptive technologies like Artificial Intelligence and Internet of Things.
Mai Pham
Glassdoor logo
As a graduate, I enjoyed working on interesting projects and being a valuable member of every team I rotated through.
Chris Loper
Glassdoor logo
You get to work on advanced concepts and ideas that will become the foundation of future technology.
Shubhang Prasanna
Glassdoor logo