Job header section
Network Engineer Apprentice - Level 4
Apprenticeships at Arm
Our Apprentices come to us from a variety of backgrounds and disciplines. Many are school or college leavers taking their first steps in tech, but we also welcome people with broader life experience, and career changers who may have gained experience in a different field and are looking for a new challenge.
Formal qualifications aren't the most important factor: what we look for in our Apprentices is passion, potential and, above all, curiosity. We want people who can show us why they're interested in working in tech, how they imagine their future, and specifically why they think Arm is the right place for them. Arm are always looking to bring brilliant people together to unlock the power of technology and spark the world's potential.
Revolutionary Rewards
Learning and Development
We encourage our people to upskill as much as they want with a comprehensive learning and development package which includes technical development, mentoring, internal and external conferences, tech talks, and donut sessions. Whether you want to learn a new programming language, upskill your excel skills or read the latest articles on Microprocessor reporting we are with you to Spark the worlds potential.
Sabbatical
We'll always encourage you to take plenty of annual leave, so you stay fresh and inspired. But you know what really does it? When we encourage you to take an extended, paid 4 weeks' sabbatical after 4 years of service.
Progressive Leave
You're a human being, not a resource. And so it's important to us that we're there for you at significant points in your life. That's why we offer flexible progressive leave. Whether you're having kids, acting as a primary care giver or have lost a loved one, you'll be able to put your family first without worrying about your career.
Wellbeing
We create a safe space for you to look after your mental and physical health, with support ranging from medical insurance to the workplace mental health platform Unmind. Alongside a growing number of onsite gyms, yoga, cycling and running clubs. All of which comes with a flexible working policy to ensure you can live life and be your brilliant self.
Role Overview
About the apprenticeship
Arm's Network Engineers provide networks and systems to deliver Arm's objectives. A key aspect of this role is to ensure that systems are working at optimum capacity and to problem solve where they are not. In order to do this successfully a Network Engineer must interpret technical information and understand organisational requirements and expectations.
Network Engineers manage and support Arm's hardware and software assets. They hold a primary responsibility in managing the resolution of network failures, supporting network integrity, and ensuring network performance meets our requirements. As part of this function a Network Engineer is accountable for ensuring that identified problems are communicated timely and clearly to all necessary stakeholders.
Please refer to the Network-Engineer guide for more information
Kindly note this role will be based in our Cambridge campus.
To be eligible you will need:
Valid passport/birth certificate and NI number
To have lived in the UK and/or EEA for 3 years prior to apprenticeship start date
To be willing to working in England for at least 50% of working time
Not undertaking another apprenticeship or government funded qualification at the same time
Our training provider will assess your eligibility for the apprenticeship program upon application.
Prior learning requirements
an A-Level in ICT
OR an International Baccalaureate at Level 3 ICT
OR an A-Level 3 apprenticeship in a similar subject
OR a BTEC Extended Diploma in IT (180 credits)
OR two years' experience in a relevant role and successful completion of our Aptitude Test
Those working in the tech industry e.g. having 1 year plus of experience working in any IT position or 1 year plus work experience in any other profession or sector and able to demonstrate working towards Level 2 in Maths and English
Required kills and Experiences
An interest in digital technologies (e.g. networking, server infrastructure, data centres and IT systems)
An understanding of what Arm is and does
Enjoy solving problems
Good verbal and written communication skills in English
Good listening skills
'Nice to have' skills and experience
An ability to build strong and positive relationships based on mutual trust
Actively seeks out and encourages alternative viewpoints and ideas
Applies critical thinking to select the best way forward
Demonstrates a positive attitude in gaining insight from team experiences
Is receptive to feedback
We always want to hear more about your experience and projects you have worked on. Please include any extracurricular activity which will help your application on your CV.
In Return:
On top of the already compelling Life at arm, we are famous of our team culture - including Friday focus times, regular career conversations, remarkable diversity-, equity and inclusion approach and continuous improvement mentality. We have quarterly 'days of care' devoted to wellbeing as well as 'connect days' where teams socialise and connect with the wider business.
'Giving back' is also a core part of life at Arm, everyone here can volunteer half a day a month through Team Arm and there are lots of opportunities to do something meaningful and impactful both locally and globally.
Diversity, Equity, and Inclusion (DEI) at Arm

"United In Purpose, Empowered Through Inclusion
We all play an important role in co-creating an inclusive environment in which representation matters, people are valued, diverse perspectives are heard, and everyone's skills are fully utilized.
At Arm, we are committed to integrating DEI practices into everything we do to effectively collaborate across teams and regions, innovate with our ecosystem partners, and be impactful leaders, managers, and individuals.
The Future Is Built On Arm. Let's Build The Future Together."
What next!?

Apply now! The role is scheduled to close by Friday 31st March 2023  

#LI-HC1 
Equal Opportunities at Arm
Arm is an equal opportunity employer, committed to providing an environment of mutual respect where equal opportunities are available to all applicants and colleagues. We are a diverse organization of dedicated and innovative individuals, and don't discriminate on the basis of any characteristic.
Hybrid Working at Arm
Arm's hybrid approach to working is centred around flexibility, where we split our time between the office and other locations to get our work done. We empower groups/teams to determine their hybrid working pattern, with an expected minimum attendance in the office of 20% per month, depending on the work, level of experience and team's needs. In some cases, the flexibility we can offer is limited by local legal, regulatory, tax, or other considerations, and where this is the case, we will collaborate with you to find the best solution.
Life at Arm
There's an open and casual atmosphere here that's so characteristic of Arm. We build spaces for continuous learning and creative expression. No matter the level of person you're approaching, they're always ready for a down-to-earth conversation. And it's easy to make friends with such a diverse network of graduates, interns, part-time undergraduates and apprentices all sticking together. Because diversity is essential to how we innovate – one reason why we're promoting more women into leadership positions.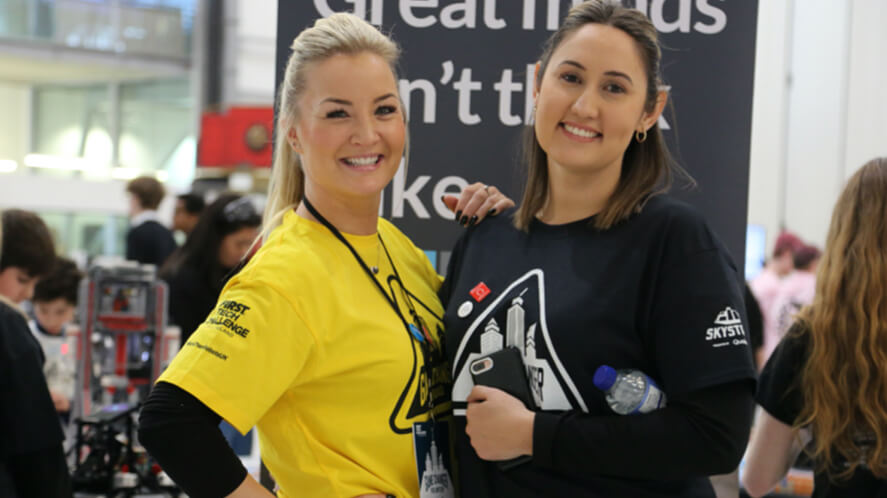 Everything Made Possible
Just how far do the possibilities of Arm's tech stretch? AI, Machine Learning, IoT… billions of people use our technology every day, spanning countless nations, industries, and applications. So much so, there's virtually never a time or place we're not with you.