Job header section
DevOps Engineering Apprentice - Level 4
Software Engineering at Arm
You might not think you know us, but you do. Our software is all over Silicon Valley. In fact, it's right in the palm of your hand. Because the biggest names in tech, from your smartphone brand to the makers of the world's fastest supercomputer look to us for the most powerful advanced core processors.
When you think about what software development can stretch to at Arm, from physical IP to machine learning, you'll wonder why you didn't apply sooner. The real-world applications for our technology are so massive, your work will influence the lives up to 70% of the global population, whether it's through award-winning VR gaming or life-enhancing medical equipment. Here you'll develop a better, connected future.
Revolutionary Rewards
Learning and Development
We encourage our people to upskill as much as they want with a comprehensive learning and development package which includes technical development, mentoring, internal and external conferences, tech talks, and donut sessions. Whether you want to learn a new programming language, upskill your excel skills or read the latest articles on Microprocessor reporting we are with you to Spark the worlds potential.
Sabbatical
We'll always encourage you to take plenty of annual leave, so you stay fresh and inspired. But you know what really does it? When we encourage you to take an extended, paid 4 weeks' sabbatical after 4 years of service.
Progressive Leave
You're a human being, not a resource. And so it's important to us that we're there for you at significant points in your life. That's why we offer flexible progressive leave. Whether you're having kids, acting as a primary care giver or have lost a loved one, you'll be able to put your family first without worrying about your career.
Wellbeing
We create a safe space for you to look after your mental and physical health, with support ranging from medical insurance to the workplace mental health platform Unmind. Alongside a growing number of onsite gyms, yoga, cycling and running clubs. All of which comes with a flexible working policy to ensure you can live life and be your brilliant self.
Role Overview
About the apprenticeship
This apprenticeship comprises of both paid work and study, allowing you to earn while working towards a Level 4 qualification funded by Arm.  Your on-the-job learning is supported by a dedicated mentor at Arm and academic support from our training provider. Together, we will work with the latest Arm technology on a variety of exciting projects.
Our apprenticeship program is crafted to meet the relevant Apprenticeship Standard and is expected to take two years to complete at which point you will join the team as a DevOps Technician. Our DevOps groups look after Arm's test farms in our data centers, which consist of Arm-based development boards or servers, used for development and testing. Your role will be focused on hands-on responsibility of maintaining these l data centers and their connection to the network. You'll be involved in the installation and configuration of the development boards, servers and commercial devices in our hardware labs and you will learn to monitor and maintain our test farm hardware, identify issues, and work with members of the team to debug and resolve any issues.
You will be working 1:1 with an experienced Software Development Engineer and have contact with engineers in different teams and groups who will introduce you to tools that allow you to automate and streamline your tasks. You will also get the opportunity to quickly gain knowledge across the wider tooling and systems maintained by our team, supported by a tailored progression plan based on your skills and interests.
You'll be given the opportunity to:
Install and learn about different Linux distributions
Install and configure virtual machines and connect them into existing infrastructure
Drive the direction of our lab solutions
Investigate and implement new features and improvements
The course is a flexible and blended learning journey, helping you to learn, understand and apply DevOps principles in the workplace faster with modules including:  
Software development fundamentals
Orchestration using Kubernetes
Containers and serverless architectures
Automation using APIs
Test driven development and Test Pyramid
Writing Infrastructure as Code (IaC)
Resolving reliability issues in live systems
Troubleshooting distributed systems
Threat modelling
Securing cloud application
Building a deployment pipeline
Completion of the program will be dependent upon passing an external assessment at the end of your program. 
To be eligible you will need:
A valid passport/birth certificate and NI number
To have lived in the UK and/or EEA for 3 years prior to apprenticeship start date
Be willling to work in England for at least 50% of working time
To not be undertaking another apprenticeship or government funded qualification at the same time
Our training provider will assess your eligibility for the apprenticeship program upon application.
Prior learning requirements
Level 3 Software apprenticeship
OR A-Level in a STEM subject (in Technology and Maths fields only) and successful completion of our Aptitude Test
OR BTEC Diploma in IT and successful completion of our Aptitude Test
OR two years' experience in a relevant role and successful completion of our Aptitude Test
Required Skills and Experiences: 
An interest in Technologies (e.g. Computer, Software Development/Programming, or tinkering with electronic devices such as smartphones, educational platforms like micro:bits)
An understanding of what Arm is and does
Enjoy solving problems
Good verbal and written communication skills in English
Good listening skills
'Nice to have' skills and experience
An ability to build strong and positive relationships based on mutual trust
Actively seeks out and encourages alternative viewpoints and ideas
Applies critical thinking to select the best way forward
Demonstrates a positive attitude in gaining insight from team experiences
Is receptive to feedback
We always want to hear more about your experience and projects you have worked on. Please include any extracurricular activity which will help your application on your CV.
In Return:
In addition to the already compelling Life at arm, we are famous of our team culture - including Friday focus times, regular career conversations, remarkable diversity-, equity and inclusion approach and continuous improvement mentality. We have quarterly 'days of care' devoted to wellbeing as well as 'connect days' where teams socialise and connect with the wider business.
'Giving back' is also a core part of life at Arm, everyone here can volunteer half a day a month through Team Arm and there are lots of opportunities to do something meaningful and impactful both locally and globally.
Diversity, Equity, and Inclusion (DEI) at Arm

"United In Purpose, Empowered Through Inclusion
We all play an important role in co-creating an inclusive environment in which representation matters, people are valued, diverse perspectives are heard, and everyone's skills are fully utilized.
At Arm, we are committed to integrating DEI practices into everything we do to effectively collaborate across teams and regions, innovate with our ecosystem partners, and be impactful leaders, managers, and individuals.
The Future Is Built On Arm. Let's Build The Future Together."
What next!? 

Apply now! The role is scheduled to close by Friday 31st March 2023  

#LI-HC1 
Equal Opportunities at Arm
Arm is an equal opportunity employer, committed to providing an environment of mutual respect where equal opportunities are available to all applicants and colleagues. We are a diverse organization of dedicated and innovative individuals, and don't discriminate on the basis of any characteristic.
Hybrid Working at Arm
Arm's hybrid approach to working is centred around flexibility, where we split our time between the office and other locations to get our work done. We empower groups/teams to determine their hybrid working pattern, with an expected minimum attendance in the office of 20% per month, depending on the work, level of experience and team's needs. In some cases, the flexibility we can offer is limited by local legal, regulatory, tax, or other considerations, and where this is the case, we will collaborate with you to find the best solution.
Life at Arm
Life in the office doesn't get any better. Especially when those offices are as sleek as ours. And the people are as creative and intuitive. Combine that with our popular 'we, not I' mindset and you enjoy the kind of teamwork and togetherness rarely found elsewhere. We share so much in common, not least the same passion for progress, but we also welcome each other's diversity. Because, ultimately, we love to inspire and be inspired every day.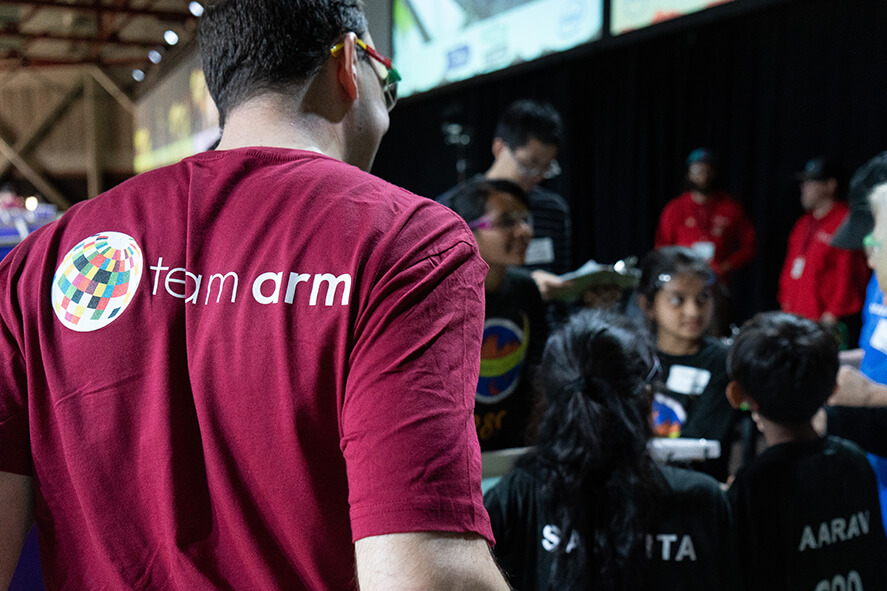 Everything Made Possible
Just how far do the possibilities of Arm's tech stretch? AI, Machine Learning, IoT… billions of people use our technology every day, spanning countless nations, industries and applications. Most people run their lives on Arm technology. So, you see: you really do know us.
Employee quotes
I'm loving my job as a Senior Software Engineer because I get to work with the latest cloud technologies like AWS and Kubernetes to try and make our engineers more efficient and making continuous delivery systems.
Sophie Carsten
Glassdoor logo
Being a Software Engineer at Arm means that you'll have the opportunity to work on ground-breaking technology that shape the world around us.
Konstantinos Monachopoulos
Glassdoor logo
The Arm technology has a massive impact on the world and you can see that from the 2000 people we were a few years ago to the 6000 we are today. That in itself leads to loads of opportunities to work on cool stuff and for your career.
Ross Keeping
Glassdoor logo
If you're a Software Engineer with generic skill sets, whether that's C, Python or whatever it might be – you'd come here to beat problems on a scale that no one else is doing.
Michael Williams
Glassdoor logo