Job header section
Hardware Modelling Engineer
Software Engineering at Arm
You might not think you know us, but you do. Our software is all over Silicon Valley. In fact, it's right in the palm of your hand. Because the biggest names in tech, from your smartphone brand to the makers of the world's fastest supercomputer look to us for the most powerful advanced core processors.
When you think about what software development can stretch to at Arm, from physical IP to machine learning, you'll wonder why you didn't apply sooner. The real-world applications for our technology are so massive, your work will influence the lives up to 70% of the global population, whether it's through award-winning VR gaming or life-enhancing medical equipment. Here you'll develop a better, connected future.
Revolutionary Rewards
Learning and Development
We encourage our people to upskill as much as they want with a comprehensive learning and development package which includes technical development, mentoring, internal and external conferences, tech talks, and donut sessions. Whether you want to learn a new programming language, upskill your excel skills or read the latest articles on Microprocessor reporting we are with you to Spark the worlds potential.
Sabbatical
We'll always encourage you to take plenty of annual leave, so you stay fresh and inspired. But you know what really does it? When we encourage you to take an extended, paid 4 weeks' sabbatical after 4 years of service.
Progressive Leave
You're a human being, not a resource. And so it's important to us that we're there for you at significant points in your life. That's why we offer flexible progressive leave. Whether you're having kids, acting as a primary care giver or have lost a loved one, you'll be able to put your family first without worrying about your career.
Wellbeing
We create a safe space for you to look after your mental and physical health, with support ranging from medical insurance to the workplace mental health platform Unmind. Alongside a growing number of onsite gyms, yoga, cycling and running clubs. All of which comes with a flexible working policy to ensure you can live life and be your brilliant self.
Role Overview
We are looking for an experienced and highly motivated performance modelling engineer to join one of the hardworking and high performing teams within Systems Engineering!
In this role you will work closely with IP and systems teams across Arm to help build high-performance System IPs and Interconnects!
About System IP
This role is for the Interconnect and System MMU product teams.
The Interconnect team develops the Arm Corelink Interconnect IP family. Our Interconnects and NoCs are designed for intelligent connected systems across a wide range of applications including mobile, IoT, networking infrastructure, automotive etc. The highly scalable IP is optimised for AMBA-compliant SoC connectivity and can be customised for multiple performance points.
The SMMU team owns the development of next-generation Arm SMMU targeting high-end mobile, networking, and enterprise markets. The SMMU is a key component of the Arm Architecture that provides critical and complex functionalities that complement systems design with Arm processors and Multimedia IP.
What will I be accountable for?
· Engage with design teams to create performance models of Systems IP products such as System MMU and Network-On-Chip Interconnect
· Analyse design performance, identifying design issues and improving the correlation of models against RTL
· Close collaboration with other Arm engineering teams leading to high quality IP that works well in a complete system.
· Support and collaborate with other teams building system level simulations using a range of models
· Building infrastructure for use in performance analysis to enable better inspection and visibility of performance in Systems IP
· Helping to define future direction of system performance modelling across Arm
Essential skills and experience
· Strong at C++ programming for large-scale software development and experience with RTL/emulation performance analysis and correlation.
· Experience in performance or functional modelling
· Experience with using modern day software development techniques and workflows such as continuous integration and continuous delivery
· Strong computer architecture knowledge
· Perl or Python scripting language skills
· You are able to plan and estimate your own work
Desirable skills
· CPU or compute subsystem memory micro-architecture
· Working knowledge of common on-chip bus protocols such as AMBA
· Knowledge of SystemC Transaction Level Modeling would be a plus
· Knowledge of Verilog, System Verilog, and testbenches, experience interacting with RTL design, verification and architecture teams across multiple products
· Team leadership and mentoring experience
#LI-RB1
Arm is an equal opportunity employer, committed to providing an environment of mutual respect where equal opportunities are available to all applicants and colleagues. We are a diverse organization of dedicated and innovative individuals, and don't discriminate on the basis of any characteristic.
Life at Arm
Life in the office doesn't get any better. Especially when those offices are as sleek as ours. And the people are as creative and intuitive. Combine that with our popular 'we, not I' mindset and you enjoy the kind of teamwork and togetherness rarely found elsewhere. We share so much in common, not least the same passion for progress, but we also welcome each other's diversity. Because, ultimately, we love to inspire and be inspired every day.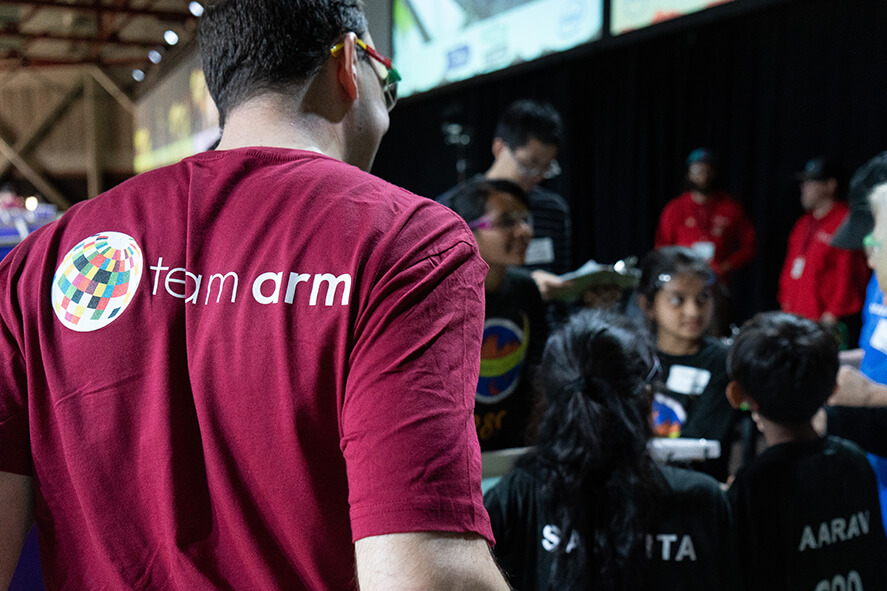 Everything Made Possible
Just how far do the possibilities of Arm's tech stretch? AI, Machine Learning, IoT… billions of people use our technology every day, spanning countless nations, industries and applications. Most people run their lives on Arm technology. So, you see: you really do know us.
Employee quotes
I'm loving my job as a Senior Software Engineer because I get to work with the latest cloud technologies like AWS and Kubernetes to try and make our engineers more efficient and making continuous delivery systems.
Sophie Carsten
Glassdoor logo
Being a Software Engineer at Arm means that you'll have the opportunity to work on ground-breaking technology that shape the world around us.
Konstantinos Monachopoulos
Glassdoor logo
The Arm technology has a massive impact on the world and you can see that from the 2000 people we were a few years ago to the 6000 we are today. That in itself leads to loads of opportunities to work on cool stuff and for your career.
Ross Keeping
Glassdoor logo
If you're a Software Engineer with generic skill sets, whether that's C, Python or whatever it might be – you'd come here to beat problems on a scale that no one else is doing.
Michael Williams
Glassdoor logo