Job header section
2021 Hardware Intern - System IP
Hardware at Arm
You know us. With 125 Arm-powered products shipped every second, we'll be in a over a trillion smart devices by 2035. Your smartphone, award-winning VR gaming, the world's fastest supercomputer – our engineers are designing the advanced core processors leading the race towards a connected, autonomous, hyper-performance future.
So, we promise you endless opportunities to experiment and go even further in hardware. From advanced core implementation to full custom physical IPs, here you'll have our backing to push limits in vital areas such as memory, IO and logic.
Role Overview
Arm is the world's leading semiconductor intellectual property (IP) supplier and as such is at the heart of the development of digital electronic products. Arm's ecosystem includes many of the biggest names in consumer electronics and semiconductor manufacturing.


Purpose


We are seeking a highly motivated graduate to join our System IP team! The successful candidate will be integral part of the team to contribute to the design and verification of the next generation of IP for various market segments.


What's in it For You?


This is an outstanding opportunity to be part of the Arm Budapest Design Center. As an intern, you will work alongside experienced engineers within one of the IP development teams. Interns will contribute to real project tasks and will be supported by experienced engineers. We believe in developing talent for the future, and therefore aim to offer many of our interns a graduate position once they have finished their studies.
Working on interesting new projects is exciting, but we also know how important it is to receive support. That's why you will have regular 1 to 1 meetings with your line manager who will be able to offer ongoing support, feedback and development opportunities. You will be given a certain amount of flexibility and freedom in how you decide to complete your project tasks.
As well as being offered a competitive salary, there are also opportunities to get involved in some of the many social events that are organised within Arm.


Experience


Successful candidates will contribute in one or more of the following areas. Prior exposure through academic project work, internships, co-ops, or full-time employment in the semiconductor or microarchitecture arena is preferred.


Keen interest and understanding of logic design and state machines
Verilog or VHDL language and associated software simulators and waveform debugging tools
RTL logic design with emphasis on low-power and high-speed implementations
Logic synthesis, timing constraints, static timing analysis, power analysis
Formal property verification
FPGA based design prototyping
Specification and creation of constrained-random testbenches
Functional coverage driven validation methods (SystemVerilog/UVM)
Software engineering skills including understanding of data structures and algorithms in C/C++ and Java, and graphical user interfaces
Assembly language or embedded programming for Arm or other architectures



Education & Qualifications


ongoing BSc degree in Electronic Engineering, Computer Engineering, Computer Science or another relevant subject. Other degree types may be considered with proven experience.
Ability to cooperate and communicate well within an engineering team
Motivated to continuously develop skills and accept a variety of responsibilities as part of contributing to the design center's success
Demonstrate positive attitude and respect for all members of the team
Willing to take risks to build revolutionary solutions for difficult problems
#LI-PK2
Arm is an equal opportunity employer, committed to providing an environment of mutual respect where equal opportunities are available to all applicants and colleagues. We are a diverse organization of dedicated and innovative individuals, and don't discriminate on the basis of any characteristic.
Life at Arm
Life in the office doesn't get any better. Especially when those offices are as sleek as ours. And the people are as creative and intuitive. Combine that with our popular 'we, not I' mindset and you enjoy the kind of teamwork and togetherness rarely found elsewhere. We share so much in common, not least the same passion for progress, but we also welcome each other's diversity. Because, ultimately, we love to inspire and be inspired every day.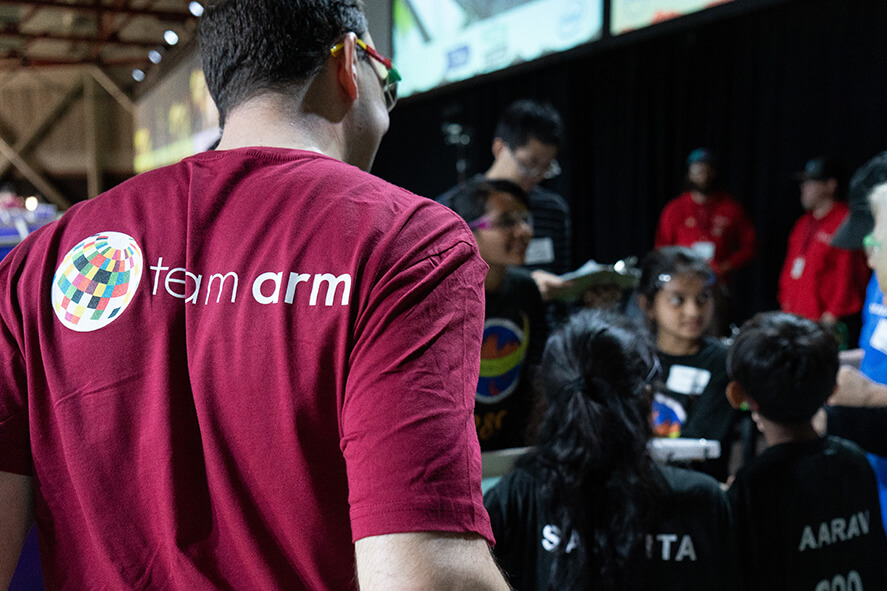 Everything Made Possible
Just how far do the possibilities of Arm's tech stretch? AI, Machine Learning, IoT… billions of people use our technology every day, spanning countless nations, industries and applications. Most people run their lives on Arm technology. So, you see: you really do know us.
Employee quotes
Arm is a transparent company, trusts its employees to deliver the best. The environment is value based. It empowers employees. Stress is on fairness, diversity and inclusion. All this without compromising on business goals and results.
Anand Hardi
Glassdoor logo
Being a father of a 5-year-old, life gets busy. Thanks to Arm's flexible approach to work, I get to attend my son's needs and cover the work in my own time, which is great.
Isuru Herath
Glassdoor logo