Job header section
Cycle Models Staff DevOps Engineer
Software Engineering at Arm
You might not think you know us, but you do. Our software is all over Silicon Valley. In fact, it's right in the palm of your hand. Because the biggest names in tech, from your smartphone brand to the makers of the world's fastest supercomputer look to us for the most powerful advanced core processors.
When you think about what software development can stretch to at Arm, from physical IP to machine learning, you'll wonder why you didn't apply sooner. The real-world applications for our technology are so massive, your work will influence the lives up to 70% of the global population, whether it's through award-winning VR gaming or life-enhancing medical equipment. Here you'll develop a better, connected future.
Revolutionary Rewards
FlexPot
One benefit we're really proud of is FlexPot; a sum of money on top of your salary (which is the same value regardless of your seniority) which you can use for charitable giving, development or your personal wellbeing. Ready to start that French language course you've always wanted to do? Or are you a keen gym-goer and want to use it for a membership? There's lots different of ways to enjoy your Flexpot.
Sabbatical
We'll always encourage you to take plenty of annual leave, so you stay fresh and inspired. But you know what really does it? When we encourage you to take an extended, paid 4 weeks' sabbatical after 4 years of service. You could even combine your FlexPot allowance with your sabbatical and volunteer overseas!
Progressive Leave
You're a human being, not a resource. And so it's important to us that we're there for you at significant points in your life. That's why we offer flexible progressive leave. Whether you're having kids, acting as a primary care giver or have lost a loved one, you'll be able to put your family first without worrying about your career.
Wellbeing
We create a safe space for you to look after your mental and physical health, with support ranging from medical insurance to the workplace mental health platform Unmind. Alongside a growing number of onsite gyms, yoga, cycling and running clubs. All of which comes with a flexible working policy to ensure you can live life and be your brilliant self.
Role Overview
About the role
Arm Boston is looking for highly skilled and motivated engineers to join us, providing Cycle Model solutions to enable Arm customers and partners!  Arm builds cycle accurate software models of leading-edge Arm technologies that will power future systems in markets such as machine learning, high performance computing, mobile and automotive. Cycle Models are used for Arm IP selection and analysis in partners' SystemC development environments.
As a Staff DevOps Engineer in the Cycle Models team, you will be joining a tight-knit, exemplary scrum team providing modern tools, technologies, and innovative solutions to support our engineers.  We are developing world class build, test, and delivery systems, implementing continuous integration/continuous delivery (CI/CD), and building a DevOps culture! You will have the chance to help create a better development environment for your team, increasing their productivity and satisfaction.
New members to our team will be expected to:
Contribute to our culture of psychological safety.

Not be afraid to fail and be excited to learn.

Have a variety of software development skills and be dedicated to extending the breadth and depth of their knowledge.

Value the DevOps culture and contribute to spreading and promoting it.

Strive to forge and support positive relationships with colleagues and other communities at Arm.

Have a real passion for driving continuous improvement through spotting opportunities and seeking the views of others.
Job Responsibilities
The day-to-day work is dynamic, and the following are examples of tasks you are likely to be involved in:
Provisioning and maintaining cloud infrastructure

Supporting container-based development workflows

Building and supporting CI/CD pipelines

Implementing a new test framework

Building a microservices-based delivery platform

Evaluating new technologies and considering new solution approaches

Analyzing and breaking down requirements from our customers/fellow engineers

Promoting the DevOps culture and practices inside the team and across Arm

Communication & collaboration with engineering IT and other Arm infrastructure groups
Skills and Experiences
These are some of the demonstrable skills and experiences we are looking for in a successful candidate.  We do not expect candidates to meet them all.  The more you have, the better your candidacy, and if you only have a few but still feel you would be an excellent fit, please apply!
Bachelor's or Master's degree in Computer Science or STEM related field

A few years or more of experience in DevOps, Site Reliability Engineering (SRE), or software development with experience in automation and infrastructure

Knowledge of and experience with DevOps concepts and industry best practices and an ability to advocate for them

Strong communication and collaboration skills and an ability to influence and drive change

Containerization technologies such as Docker, Kubernetes, or similar

Familiarity with Infrastructure as Code concepts, and with tools such as Terraform, Ansible, and Packer

Linux command line

Version control tools such as Git

CI/CD tools such as Jenkins, Bamboo, Travis CI, TeamCity, or similar

Scripting in at least one programming language such as Bash, Python, Java, or Go and/or a willingness and demonstrated capability to learn

Build automation tooling such as Bazel, Make, Buck, Gradle, or similar

Writing tests using industry standard testing frameworks such as JUnit, Robot Framework, Squish or Selenium

Monitoring, metrics, and results visualization tooling such as Prometheus, Grafana, Elastic Stack, or similar

Web application and microservice development
Core Beliefs
At Arm, we are guided by our Core Beliefs that reflect our rare culture and guide our decisions, defining how we work together to defy ordinary and shape extraordinary:
We not I
Collaboration first, egos last.
Start with long-term value to customers and partners, and work back from there.
Collaborate, decide, commit, and bring people with you.
Make the most of all the skills and knowledge across Arm; share information with those who need it.
Care about the people around you.
Passion for progress
Innovation that enables our ecosystems, Arm and our people to thrive.
Work with pace and judgement. Adapt to circumstances.
Take risk in support of Arm's progress.
Be accountable for the decisions you take. Learn from failure.
Pursue innovation relentlessly.
Be your brilliant self
Skillful individuality, performance, and fulfilment.
Be authentic.
Seek and embrace differences.
Encourage curiosity and challenge.
Give people trust and autonomy; show people they can trust you to do brilliant work in pursuit of Arm's goals.
Arm is committed to global talent acquisition, offering an attractive relocation package. With offices around the world, Arm is a diverse organisation of dedicated, creative and highly talented engineers. By enabling a dynamic, inclusive, meritocratic, and open workplace, where all our people can grow and succeed, we encourage our people to share their unrivaled contributions to Arm's success in the global marketplace.
We are an Equal Opportunity Employer, value diversity at our company and do not discriminate against any employee or applicant for employment on the basis of race, color, gender, age, national origin, religion, sexual orientation, gender identity, status as a veteran, and basis of disability or any other federal, state or local protected class.
Arm is an equal opportunity employer, committed to providing an environment of mutual respect where equal opportunities are available to all applicants and colleagues. We are a diverse organization of dedicated and innovative individuals, and don't discriminate on the basis of any characteristic.
Life at Arm
Life in the office doesn't get any better. Especially when those offices are as sleek as ours. And the people are as creative and intuitive. Combine that with our popular 'we, not I' mindset and you enjoy the kind of teamwork and togetherness rarely found elsewhere. We share so much in common, not least the same passion for progress, but we also welcome each other's diversity. Because, ultimately, we love to inspire and be inspired every day.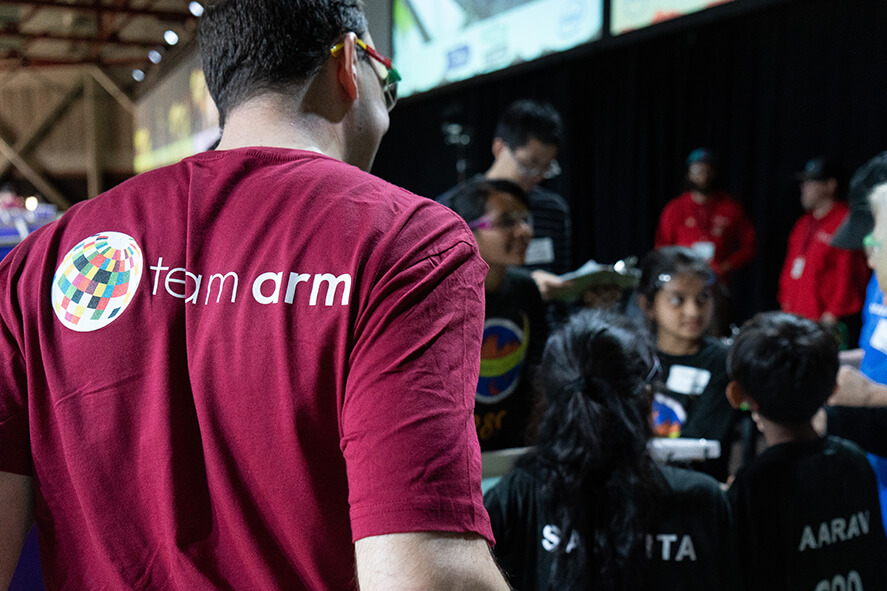 Everything Made Possible
Just how far do the possibilities of Arm's tech stretch? AI, Machine Learning, IoT… billions of people use our technology every day, spanning countless nations, industries and applications. Most people run their lives on Arm technology. So, you see: you really do know us.
Employee quotes
I'm loving my job as a Senior Software Engineer because I get to work with the latest cloud technologies like AWS and Kubernetes to try and make our engineers more efficient and making continuous delivery systems.
Sophie Carsten
Glassdoor logo
Being a Software Engineer at Arm means that you'll have the opportunity to work on ground-breaking technology that shape the world around us.
Konstantinos Monachopoulos
Glassdoor logo
The Arm technology has a massive impact on the world and you can see that from the 2000 people we were a few years ago to the 6000 we are today. That in itself leads to loads of opportunities to work on cool stuff and for your career.
Ross Keeping
Glassdoor logo
If you're a Software Engineer with generic skill sets, whether that's C, Python or whatever it might be – you'd come here to beat problems on a scale that no one else is doing.
Michael Williams
Glassdoor logo