Job header section
Staff Verification Engineer – CPU
Internships at Arm
Most people know Arm and the scale at which our advanced core processors are changing the world. But not everyone knows our name. They do know our partners, though. Because those tiny processors are a driving force behind the biggest names in tech. Not only in Silicon Valley, but 70% of technology used by the world's population – from your smartphone to the world's fastest supercomputer.
What better place to get an internship? We put our trust in you to work on big, global projects because you'll have our world-class mentors on your side, giving you just the right combination of freedom and support. And what if you want to focus on becoming an expert in certain skills? We're with you there too – creating your own development roadmap paired with your choice workshops.
Revolutionary Rewards
Learning and Development
We encourage our people to upskill as much as they want with a comprehensive learning and development package which includes technical development, mentoring, internal and external conferences, tech talks, and donut sessions. Whether you want to learn a new programming language, upskill your excel skills or read the latest articles on Microprocessor reporting we are with you to Spark the worlds potential.
Sabbatical
We'll always encourage you to take plenty of annual leave, so you stay fresh and inspired. But you know what really does it? When we encourage you to take an extended, paid 4 weeks' sabbatical after 4 years of service.
Progressive Leave
You're a human being, not a resource. And so it's important to us that we're there for you at significant points in your life. That's why we offer flexible progressive leave. Whether you're having kids, acting as a primary care giver or have lost a loved one, you'll be able to put your family first without worrying about your career.
Wellbeing
We create a safe space for you to look after your mental and physical health, with support ranging from medical insurance to the workplace mental health platform Unmind. Alongside a growing number of onsite gyms, yoga, cycling and running clubs. All of which comes with a flexible working policy to ensure you can live life and be your brilliant self.
Role Overview
Job Description: Introduction
ARM crafts the technology that is at the heart of advanced digital products, from wireless, networking and consumer entertainment solutions to imaging, automotive, security and storage devices. ARM improves people's lives by enabling the intelligence in affordable, easy-to-use electronic products that transform the way we live and work. We work in partnership with a global network of leading technology companies which are using our low-power technology. Together we are crafting the future of a better world.
ARM's CPU group develops high performance CPU cores that drives many of today's digital devices. Customers demand high quality and reliable IP, as the cost of design iterations is extremely high and shorter design cycles means that re-spins can be disastrous for the success of a product. Against this background, ARM has embraced a 'right-first-time' methodology and recognizes the need for dedicated verification engineers to work with the design team. Verification of ARM CPUs is a tough challenge !! At ARM, several complementary methodologies are used to ensure that no bugs go undetected. ARM CPU Verification Engineers have and develop specialist skills and knowledge and apply both hardware and software skills to the validation task. They work closely with the designers to understand various areas of the design, so that the features are thoroughly validated. This requires an insight both of the 'big picture' at the architectural level and of the detail at the implementation level.
Job Requirements: Key Accountabilities
Technical Leadership within the projects to deliver effective Verification of ARM CPU IPs
In-depth knowledge of CPU Design verification requirements and ensuring they are accurately transferred to technical goals.
Design and development of verification testbench and components needed for effective verification
Execution of CPU DV with focus on improvement of IP quality; stress testing and bug hunting
Planning and coordination of resources and team members to meet Design Verification goals on time and within budget
Stakeholder management and strong and continuous communication, as most of the team are cross site, in terms of planning, reviews, project tracking, continuous engagement through status updates and meetings, as well as delivery against expectation
Define goals and appropriate timescales, provide project plans and appropriate guidance to specifications, and use the assigned engineering resource creatively to deliver on the engineering commitments successfully
Maintain a proficient knowledge of company processes in order to work constructively within given standards and methodologies
Actively review inter-project dependencies and risks, assist in the resolution of differences where vital, to achieve greater success.
Drive efficiency improvement through adoption of right verification tools and methodologies
Continue to invest in interpersonal development, recruit the best talent to further strengthen the team, mentor/coach team members for career development
Required Education:
Good university Degree in Microelectronics, Electrical Engineering or Computer Science. Other Science graduates would be considered if they have validated experience
Essential Experience:
10+ years of experience in an IP/SOC product development environment
Experience with Design Verification/validation methodologies such as Test Plan development, Testbench development and execution thereof
Familiar with verification of processors based on Assembly language or C/C++
Familiar with Microprocessor and/or SoC Architecture and micro Architecture, preferably ARM processors and ARM processor based systems
Consistent track record of Technical Leadership working with a team of highly skilled engineers.
Desirable Experience:
Languages: Verilog, C/C++, Assembly language, Perl
Verification Languages such as System Verilog.
Strong understanding of CPU micro-architectures.
Experience in Power aware verification of designs.
Experience and strong interest towards People Management
Experience of ARM based System Designs, and hierarchical memory system.
Arm is an equal opportunity employer, committed to providing an environment of mutual respect where equal opportunities are available to all applicants and colleagues. We are a diverse organisation of dedicated and innovative individuals, and don't discriminate on the basis of any characteristic.
#LI-SR1
Arm is an equal opportunity employer, committed to providing an environment of mutual respect where equal opportunities are available to all applicants and colleagues. We are a diverse organization of dedicated and innovative individuals, and don't discriminate on the basis of any characteristic.
Life at Arm
Life in the office doesn't get any better. Especially when those offices are as sleek as ours. And the people are as creative and intuitive. Combine that with our popular 'we, not I' mindset and you enjoy the kind of teamwork and togetherness rarely found elsewhere. We share so much in common, not least the same passion for progress, but we also welcome each other's diversity. Because, ultimately, we love to inspire and be inspired every day.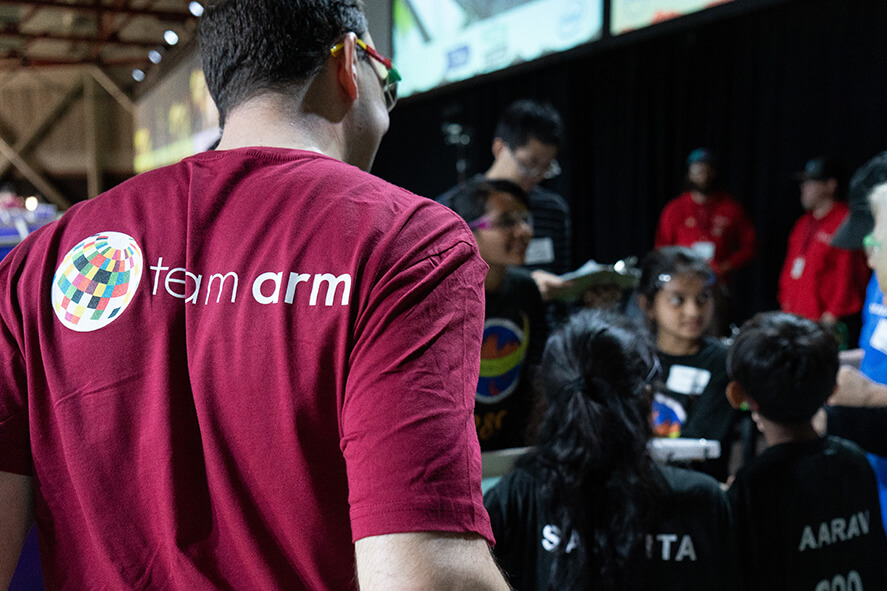 Everything Made Possible
Just how far do the possibilities of Arm's tech stretch? AI, Machine Learning, IoT… billions of people use our technology every day, spanning countless nations, industries and applications. Most people run their lives on Arm technology. So, you see: you really do know us.
Employee quotes
Arm is a transparent company, trusts its employees to deliver the best. The environment is value based. It empowers employees. Stress is on fairness, diversity and inclusion. All this without compromising on business goals and results.
Anand Hardi
Glassdoor logo
Being a father of a 5-year-old, life gets busy. Thanks to Arm's flexible approach to work, I get to attend my son's needs and cover the work in my own time, which is great.
Isuru Herath
Glassdoor logo