Job header section
Principal Engineer - System Architecture Compliance
Internships at Arm
Most people know Arm and the scale at which our advanced core processors are changing the world. But not everyone knows our name. They do know our partners, though. Because those tiny processors are a driving force behind the biggest names in tech. Not only in Silicon Valley, but 70% of technology used by the world's population – from your smartphone to the world's fastest supercomputer.
What better place to get an internship? We put our trust in you to work on big, global projects because you'll have our world-class mentors on your side, giving you just the right combination of freedom and support. And what if you want to focus on becoming an expert in certain skills? We're with you there too – creating your own development roadmap paired with your choice workshops.
Revolutionary Rewards
Learning and Development
We encourage our people to upskill as much as they want with a comprehensive learning and development package which includes technical development, mentoring, internal and external conferences, tech talks, and donut sessions. Whether you want to learn a new programming language, upskill your excel skills or read the latest articles on Microprocessor reporting we are with you to Spark the worlds potential.
Sabbatical
We'll always encourage you to take plenty of annual leave, so you stay fresh and inspired. But you know what really does it? When we encourage you to take an extended, paid 4 weeks' sabbatical after 4 years of service.
Progressive Leave
You're a human being, not a resource. And so it's important to us that we're there for you at significant points in your life. That's why we offer flexible progressive leave. Whether you're having kids, acting as a primary care giver or have lost a loved one, you'll be able to put your family first without worrying about your career.
Wellbeing
We create a safe space for you to look after your mental and physical health, with support ranging from medical insurance to the workplace mental health platform Unmind. Alongside a growing number of onsite gyms, yoga, cycling and running clubs. All of which comes with a flexible working policy to ensure you can live life and be your brilliant self.
Role Overview
Engineering at Arm
You know us. With 125 Arm-powered products shipped every second, we'll be in an over a trillion smart devices by 2035. Your smartphone, award-winning VR gaming, the world's fastest supercomputer – our engineers are designing the advanced core processors leading the race towards a connected, autonomous, hyper-performance future.
So, we promise you endless opportunities to experiment and go even further ! From advanced hardware to software
Job Description: Introduction
The Architecture and Technology Group (ATG) at ARM develops technologies and products for ARM's future architecture roadmap. One of the charters of the ATG group is to define system architecture that enables a consistent software view of ARM Architecture based systems. Along with the architecture specification, ARM develops software verification suites to confirm compliance to the architecture specifications. For system architecture, the software test-suites are developed as open source software, building over industry standards. The software should be easy to deploy on a variety of implementations, be effective at confirming compliance and build on standard accepted practices.
Job Purpose
The purpose of this role is to ensure that various system implementations based on the same architectural specifications, can run standard software from different vendors efficiently and with minimal effort. This will reduce overall market deployment time and enable broad adoption of these system implementations.
As the senior lead in the team, you will be leading the development of a broad section of the System Architecture software test-suites. Working with architects and partners you will have an opportunity to define the architecture test-suites, lead their development and enable their broad adoption and deployment with partners.
We are looking for a dedicated, communicative and enthusiastic individual who has experience with bringing up software on complex diverse systems and appreciates the needs for standards. Good fundamentals in computer architecture, experience with firmware and operating systems is critical for this role.
You will need a good eye for technical detail, the ability to initially work within existing systems whilst developing and plans for future extensions, as well as strong leadership and interpersonal skills. Ensuring timely delivery of the best systems and processes in an evolving environment is a challenge which will stretch and extend your knowledge and abilities. You will be responsible in improving the quality of the work from this group which will contribute to partner success by improving their time to market. If you strive for continuous improvement and are a hands-on teammate this position would be of interest to you.
Job Requirements:
Qualification & Experience
Good university degree, ideally in Electrical Engineering, Electronics and Communication or Computer Science, although other graduates would be considered if they have relevant experience.
Essential Skills & Experience
10+ years of relevant experience with 4+ years of team leadership experience.
Good understanding of the latest computer architecture and multi-processor /multi-chip systems.
Proven software development skills, ideally in the area of firmware / low level operating systems
Desirable skills
Experience in Linux and UEFI
Implementation of bespoke test harness' for O/S and bare metal validation
Ability to understand and drive complex technical specifications
#LI-SR1
Arm is an equal opportunity employer, committed to providing an environment of mutual respect where equal opportunities are available to all applicants and colleagues. We are a diverse organization of dedicated and innovative individuals, and don't discriminate on the basis of any characteristic.
Life at Arm
Life in the office doesn't get any better. Especially when those offices are as sleek as ours. And the people are as creative and intuitive. Combine that with our popular 'we, not I' mindset and you enjoy the kind of teamwork and togetherness rarely found elsewhere. We share so much in common, not least the same passion for progress, but we also welcome each other's diversity. Because, ultimately, we love to inspire and be inspired every day.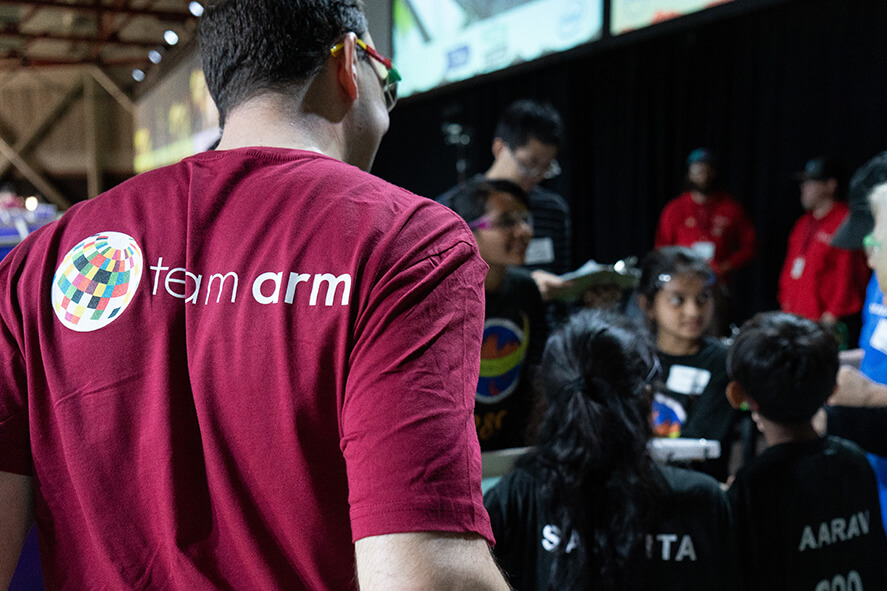 Everything Made Possible
Just how far do the possibilities of Arm's tech stretch? AI, Machine Learning, IoT… billions of people use our technology every day, spanning countless nations, industries and applications. Most people run their lives on Arm technology. So, you see: you really do know us.
Employee quotes
Arm is a transparent company, trusts its employees to deliver the best. The environment is value based. It empowers employees. Stress is on fairness, diversity and inclusion. All this without compromising on business goals and results.
Anand Hardi
Glassdoor logo
Being a father of a 5-year-old, life gets busy. Thanks to Arm's flexible approach to work, I get to attend my son's needs and cover the work in my own time, which is great.
Isuru Herath
Glassdoor logo