Job header section
Senior CPU Verification Engineer – Datapath
Hardware at Arm
You know us. With 125 Arm-powered products shipped every second, we'll be in a over a trillion smart devices by 2035. Your smartphone, award-winning VR gaming, the world's fastest supercomputer – our engineers are designing the advanced core processors leading the race towards a connected, autonomous, hyper-performance future.
So, we promise you endless opportunities to experiment and go even further in hardware. From advanced core implementation to full custom physical IPs, here you'll have our backing to push limits in vital areas such as memory, IO and logic.
Revolutionary Rewards
FlexPot
One benefit we're really proud of is FlexPot; a sum of money on top of your salary (which is the same value regardless of your seniority) which you can use for charitable giving, development or your personal wellbeing. Ready to start that French language course you've always wanted to do? Or are you a keen gym-goer and want to use it for a membership? There's lots different of ways to enjoy your Flexpot.
Sabbatical
We'll always encourage you to take plenty of annual leave, so you stay fresh and inspired. But you know what really does it? When we encourage you to take an extended, paid 4 weeks' sabbatical after 4 years of service. You could even combine your FlexPot allowance with your sabbatical and volunteer overseas!
Progressive Leave
You're a human being, not a resource. And so it's important to us that we're there for you at significant points in your life. That's why we offer flexible progressive leave. Whether you're having kids, acting as a primary care giver or have lost a loved one, you'll be able to put your family first without worrying about your career.
Wellbeing
We create a safe space for you to look after your mental and physical health, with support ranging from medical insurance to the workplace mental health platform Unmind. Alongside a growing number of onsite gyms, yoga, cycling and running clubs. All of which comes with a flexible working policy to ensure you can live life and be your brilliant self.
Role Overview
About the role
Arm processors are the brains in billions of diverse electronic devices. Our CPU group defines, designs, and validates all of Arm's processor IP and collaborates with the world's leading technology companies. As a verification methodology engineer in the Austin-based CPU Verification team, you will help enabling the team of talented verification engineers to efficiently perform their responsibilities. The job focuses on development of tools and improving the workflows used by the CPU engineering team.
What will I be accountable for?
Work closely with designers and verification engineers in various Arm projects to enable our verification methodology throughout the company.

Analyze new data path RTL designs and underlying algorithms, develop abstract C models of these designs, establish equivalence between RTL and C with a commercial checker (SLEC), and formally verify correctness of the models with respect to a high-level architectural specification using the ACL2 theorem prover.

Contribute to the infrastructure of our verification effort, e.g., by improving interfaces with SLEC and ACL2.

Consider and potentially pursue applications of interactive theorem proving to other components of Arm processors.

Working closely with other engineering and services teams within ARM to help them adopt best solutions
Job Requirements
What skills, experience, and qualifications do I need?
MS or BS in Computer Science, Electrical Engineering, or Computer Engineering

Demonstrated strong ability for rigorous mathematical reasoning and familiarity with floating-point arithmetic.

Understanding of standard algorithms and techniques used in the implementation of elementary arithmetic operations
C programming experience and a reading knowledge of basic Verilog.

Ability to collaborate and contribute in a remote working environment.
What would give my candidacy an edge?
Demonstrated ability to develop complex mathematical proofs

Experience and demonstrated expertise in interactive theorem proving, especially in the use of ACL2

Familiarity with commercial sequential logic equivalence checkers

General knowledge of aspects of CPU/GPU microarchitecture, e.g., out-of-order execution and memory systems
What are the desired behaviors for this role?
At Arm, we are guided by our core beliefs that reflect our unique culture and guide our decisions, defining how we work together to defy ordinary and shape extraordinary:
We not I
Take daily responsibility to make the Global Arm community thrive

No individual owns the right answer. Brilliance is collective

Information is important, share it

Realize that we win when we collaborate — and that everyone misses out when we don't
 Passion for Progress
Our differences are our strength. Widen and mix up the pool of people you connect with

Difficult things can take unexpected directions. Stick with it

Make feedback positive and expansive, not negative and narrow

The essence of progress is that it can't stop. Grow with it and own your own progress
Be your Brilliant Self
Be quirky, not egocentric

Recognize the power in saying 'I don't know'

Make trust our default position

Hold strong opinions lightly
Arm is an equal opportunity employer, committed to providing an environment of mutual respect where equal opportunities are available to all applicants and colleagues. We are a diverse organization of dedicated and innovative individuals, and don't discriminate on the basis of any characteristic.
Life at Arm
Life in the office doesn't get any better. Especially when those offices are as sleek as ours. And the people are as creative and intuitive. Combine that with our popular 'we, not I' mindset and you enjoy the kind of teamwork and togetherness rarely found elsewhere. We share so much in common, not least the same passion for progress, but we also welcome each other's diversity. Because, ultimately, we love to inspire and be inspired every day.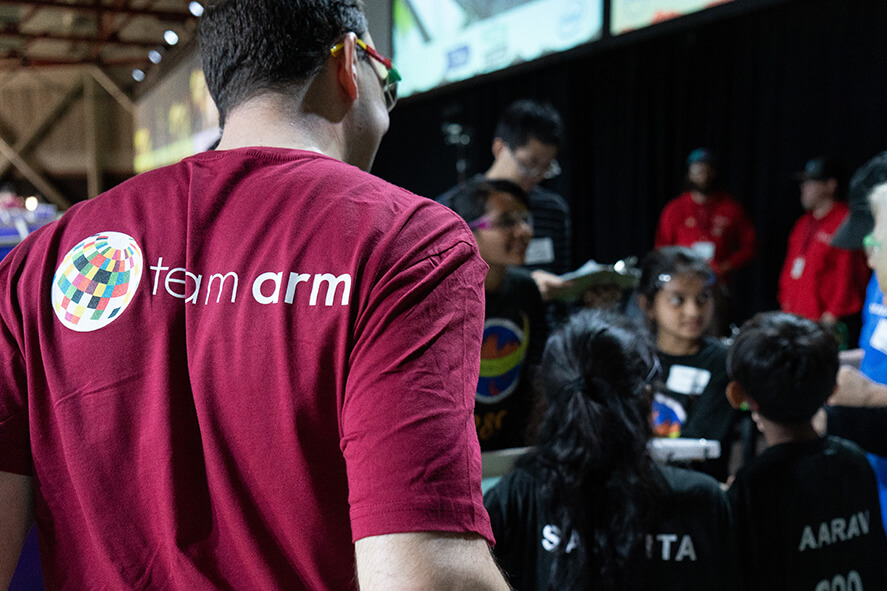 Everything Made Possible
Just how far do the possibilities of Arm's tech stretch? AI, Machine Learning, IoT… billions of people use our technology every day, spanning countless nations, industries and applications. Most people run their lives on Arm technology. So, you see: you really do know us.
Employee quotes
Arm is a transparent company, trusts its employees to deliver the best. The environment is value based. It empowers employees. Stress is on fairness, diversity and inclusion. All this without compromising on business goals and results.
Anand Hardi
Glassdoor logo
Being a father of a 5-year-old, life gets busy. Thanks to Arm's flexible approach to work, I get to attend my son's needs and cover the work in my own time, which is great.
Isuru Herath
Glassdoor logo