Job header section
Design Verification Engineer – System Level Cache
Hardware at Arm
You know us. With 125 Arm-powered products shipped every second, we'll be in a over a trillion smart devices by 2035. Your smartphone, award-winning VR gaming, the world's fastest supercomputer – our engineers are designing the advanced core processors leading the race towards a connected, autonomous, hyper-performance future.
So, we promise you endless opportunities to experiment and go even further in hardware. From advanced core implementation to full custom physical IPs, here you'll have our backing to push limits in vital areas such as memory, IO and logic.
Revolutionary Rewards
Learning and Development
We encourage our people to upskill as much as they want with a comprehensive learning and development package which includes technical development, mentoring, internal and external conferences, tech talks, and donut sessions. Whether you want to learn a new programming language, upskill your excel skills or read the latest articles on Microprocessor reporting we are with you to Spark the worlds potential.
Sabbatical
We'll always encourage you to take plenty of annual leave, so you stay fresh and inspired. But you know what really does it? When we encourage you to take an extended, paid 4 weeks' sabbatical after 4 years of service.
Progressive Leave
You're a human being, not a resource. And so it's important to us that we're there for you at significant points in your life. That's why we offer flexible progressive leave. Whether you're having kids, acting as a primary care giver or have lost a loved one, you'll be able to put your family first without worrying about your career.
Wellbeing
We create a safe space for you to look after your mental and physical health, with support ranging from medical insurance to the workplace mental health platform Unmind. Alongside a growing number of onsite gyms, yoga, cycling and running clubs. All of which comes with a flexible working policy to ensure you can live life and be your brilliant self.
Role Overview
Introduction
The Arm CoreLink CMN-600 Coherent Mesh Network is crafted for intelligent connected systems across a variety of applications including networking infrastructure, storage, server, HPC, automotive, and industrial solutions. The highly scalable mesh is optimized for Armv8-A processors and can be customized across a wide range of performance points! We drive the specification, planning and development of UVM based testbenches to verify current and next generation designs. Our team completes verification for the entire interconnect solution including the transport layer, coherent interfaces, I/O bridges, registers and our coherent multi-chip link (CML).


What will I be accountable for?
As a System Level Cache Verification Engineer, you would be delivering verification of functional blocks at the unit level. Typical accountabilities include:
Engage with design and verification teams to perform design investigation for next generation interconnect products.

Build and maintain detailed verification plans.

Work closely with RTL designers in verifying correctness of the design.

Develop SystemVerilog/UVM testbenches for sophisticated IP using constrained random verification methodology.

Write architectural and microarchitectural checks in scoreboard to verify the design while enabling vertical reuse at top level testbench.

Debug functional errors in the RTL model using simulation and debug tools with an in-depth understanding of the microarchitecture.

Define, implement and analyze functional coverage.

Analysis of data from simulation runs using machine learning and data science techniques to drive efficient bug discovery and debug.

Promote and demonstrate the Arm Core Beliefs and Behaviors.
Job Requirements
What skills, experience and qualifications do I need?
Bachelor's or Master's degree in Electrical/Computer Engineering or Computer Science.

5+ years experience in pre-silicon verification/RTL design.

Multi-level cache architecture experience including knowledge of cache coherency (coherence mechanisms like bus snooping, directory-based system, MESI/MOESI coherence protocols), cache consistency and bus protocols (e.g. AMBA5 CHI, AMBA4 ACE or AXI).

Previous experience in specification, creation, and debug of System Verilog/UVM constrained-random testbenches.

Software engineering skills including understanding of object-oriented programming, data structures, and algorithms.

Experience in developing constrained random stimulus, functional checks, using bus functional models as well as functional coverage verification methods.

Excellent professional knowledge of scripting languages such as Python, Ruby or Perl.

Experience in Formal Verification is a plus.
What are the desired behaviors for this role?
At Arm, we are guided by our core beliefs that reflect our rare culture and guide our decisions, defining how we work together to defy ordinary and shape extraordinary:


We Not I
Take daily responsibility to make the Global Arm community thrive

No individual is responsible for the right answer. Brilliance is collective

Information is crucial, share it

Realize that we win when we collaborate — and that everyone misses out when we don't
Passion For Progress
Our differences are our strength. Widen and mix up your network of connections

Difficult things can take unexpected directions. Stick with it

Make feedback positive and expansive, not negative and narrow

The essence of progress is that it can't stop. Grow with it and own your own progress
Be Your Brilliant Self


Be quirky not egocentric Recognize the power in saying 'I don't know' Make trust our default position Hold strong opinions lightly.
Arm is an equal opportunity employer, committed to providing an environment of mutual respect where equal opportunities are available to all applicants and colleagues. We are a diverse organization of dedicated and innovative individuals, and don't discriminate on the basis of any characteristic.
Arm is an equal opportunity employer, committed to providing an environment of mutual respect where equal opportunities are available to all applicants and colleagues. We are a diverse organization of dedicated and innovative individuals, and don't discriminate on the basis of any characteristic.
Life at Arm
Life in the office doesn't get any better. Especially when those offices are as sleek as ours. And the people are as creative and intuitive. Combine that with our popular 'we, not I' mindset and you enjoy the kind of teamwork and togetherness rarely found elsewhere. We share so much in common, not least the same passion for progress, but we also welcome each other's diversity. Because, ultimately, we love to inspire and be inspired every day.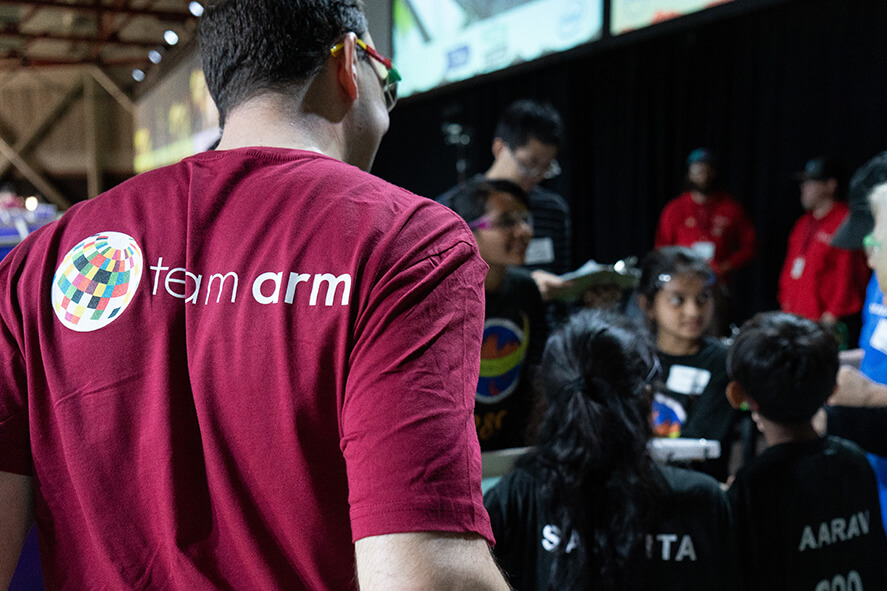 Everything Made Possible
Just how far do the possibilities of Arm's tech stretch? AI, Machine Learning, IoT… billions of people use our technology every day, spanning countless nations, industries and applications. Most people run their lives on Arm technology. So, you see: you really do know us.
Employee quotes
Arm is a transparent company, trusts its employees to deliver the best. The environment is value based. It empowers employees. Stress is on fairness, diversity and inclusion. All this without compromising on business goals and results.
Anand Hardi
Glassdoor logo
Being a father of a 5-year-old, life gets busy. Thanks to Arm's flexible approach to work, I get to attend my son's needs and cover the work in my own time, which is great.
Isuru Herath
Glassdoor logo