Job header section
Cybersecurity Incident Response Manager
Internships at Arm
Most people know Arm and the scale at which our advanced core processors are changing the world. But not everyone knows our name. They do know our partners, though. Because those tiny processors are a driving force behind the biggest names in tech. Not only in Silicon Valley, but 70% of technology used by the world's population – from your smartphone to the world's fastest supercomputer.
What better place to get an internship? We put our trust in you to work on big, global projects because you'll have our world-class mentors on your side, giving you just the right combination of freedom and support. And what if you want to focus on becoming an expert in certain skills? We're with you there too – creating your own development roadmap paired with your choice workshops.
Revolutionary Rewards
Learning and Development
We encourage our people to upskill as much as they want with a comprehensive learning and development package which includes technical development, mentoring, internal and external conferences, tech talks, and donut sessions. Whether you want to learn a new programming language, upskill your excel skills or read the latest articles on Microprocessor reporting we are with you to Spark the worlds potential.
Sabbatical
We'll always encourage you to take plenty of annual leave, so you stay fresh and inspired. But you know what really does it? When we encourage you to take an extended, paid 4 weeks' sabbatical after 4 years of service.
Progressive Leave
You're a human being, not a resource. And so it's important to us that we're there for you at significant points in your life. That's why we offer flexible progressive leave. Whether you're having kids, acting as a primary care giver or have lost a loved one, you'll be able to put your family first without worrying about your career.
Wellbeing
We create a safe space for you to look after your mental and physical health, with support ranging from medical insurance to the workplace mental health platform Unmind. Alongside a growing number of onsite gyms, yoga, cycling and running clubs. All of which comes with a flexible working policy to ensure you can live life and be your brilliant self.
Role Overview
Do you want to defend a global tech company from the latest cyber threats? Arm Ltd is seeking a passionate, experienced Cybersecurity Incident Responder to join our growing Security Operations Centre, protecting Arm against current and future cyber-attacks.
About Arm
Arm® technology is at the heart of a computing and connectivity revolution that is redefining the way people live and businesses operate. Everyday more than 45 million ARM-based chips are shipped by our partners into products that enhance the human experience: connecting people, improving lives and making the impossible possible. From the sensor to the cloud and all points in between, Arm is crafting the digital connected world. Our advanced processor designs have provided the intelligence in over 100 billion silicon chips, powering products from smartphones to supercomputers, medical devices to agricultural sensors and base stations to servers.
About the role
The role is a part of Arm's Chief Information Security Officer (CISO) function and provides an excellent opportunity, including leading security incident response for the US region and acting as a subject matter expert for complex incidents.
In addition to playing an integral role in Arm's SOC, you will be expected to work with senior internal stakeholders and third-party partners on refining the security incident management process.
Why join the CISO team?
We are at an exciting moment on our transformation journey! Arm has a bold vision to develop technology that invisibly enables opportunity for a globally connected population. To achieve this, Arm is growing rapidly and developing new capabilities. With new business capabilities, Arm is encountering new security challenges that require a thoughtful, adaptable approach to strengthen its cyber defenses and detect & respond strategy.
We enable Arm to be successful by delivering scalable and defendable security services that not only provide for the protection of Arm, customer & partner data, but that provides for an advantage in a highly competitive industry.
Responsibilities
You will lead the response to high priority security incidents in conjunction with L2 analysts.
Facilitate major incident briefing calls, direction of required response tasks and documentation & distribution of incident communications.
Coordination and engagement with internal partners, contracted security providers and/or law enforcement on larger investigations.
Update and improve operational response and forensics capability (including process and technology) in line with Security IR requirements, covering Windows, Linux & Mac hosts, networks and cloud environments.
Support SOC management in planning for security incidents, ensuring that capabilities and procedures are regularly tested to ensure they meet requirements.
Maintain and improve the post incident review process, including root cause analysis process and control improvements.
Contribute to the development of policies, standards and guidelines for incident response.
Maintain knowledge of current threats, possessing the capability to replicate and protect against the techniques used.
Required Technical Skills
Demonstrable experience of leading teams of investigators on diverse and complex investigations
Proven track record in Information Security with a focus on Incident Response.
In-depth knowledge of the cyber security threat landscape and experience in bring it to bear in a tailored response to a major incident.
You should have an extensive, up to date understanding of the tools techniques and tactics of Targeted Threat Actors and insight into present and future trends.
Solid grasp of SOC and Incident Response (IR) processes and experience with relevant tools (forensics, SIEM, IR management)
Qualifications
BSc or higher in relevant subject (e.g Computer Forensics, digital investigation, IR),

or equivalent evidenced experience

Applicable Professional qualification e.g SANS, CISSP, GCIH, GIAC, GCFE, GREM SANS Certifications, EnCE, Cyber Incident Response (CSIRT/CERT) (Desirable)
Personal skills
You have strong leadership skills and are confident in leading a multi-functional cyber incident involving senior leaders.
Excellent organizational skills, ability to prioritize tasks and work calmly and methodically in pressurized situations
Good interpersonal skills (both written and verbal) and stakeholder management skills
You are able to work independently with little supervision, but also integrate well into teams
You possess the ability to suggest creative but practical solutions to complex problems, and have an excellent analytical and technical curiosity
Arm is an equal opportunity employer, committed to providing an environment of mutual respect where equal opportunities are available to all applicants and colleagues. We are a diverse organization of dedicated and innovative individuals, and don't discriminate on the basis of any characteristic.
LI-SA1
Arm is an equal opportunity employer, committed to providing an environment of mutual respect where equal opportunities are available to all applicants and colleagues. We are a diverse organization of dedicated and innovative individuals, and don't discriminate on the basis of any characteristic.
Life at Arm
Life in the office doesn't get any better. Especially when those offices are as sleek as ours. And the people are as creative and intuitive. Combine that with our popular 'we, not I' mindset and you enjoy the kind of teamwork and togetherness rarely found elsewhere. We share so much in common, not least the same passion for progress, but we also welcome each other's diversity. Because, ultimately, we love to inspire and be inspired every day.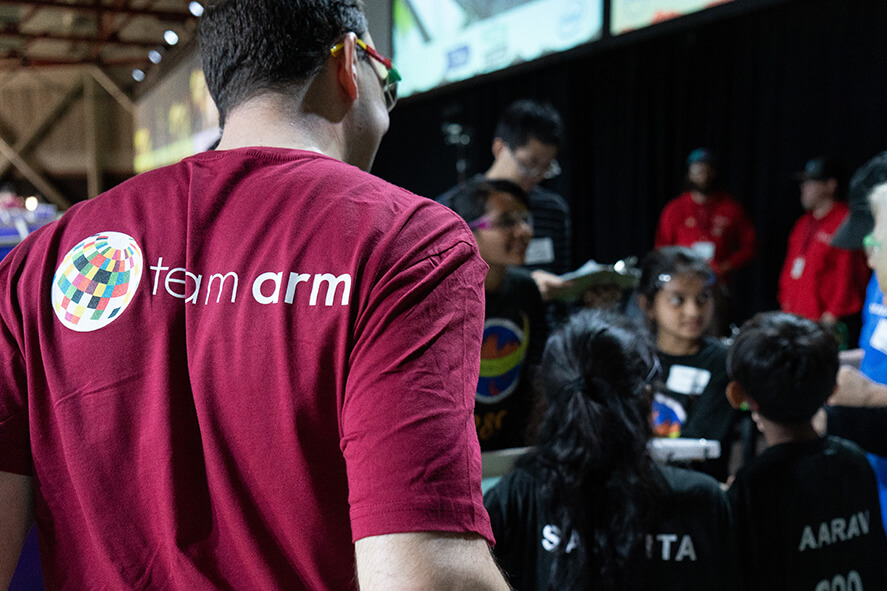 Everything Made Possible
Just how far do the possibilities of Arm's tech stretch? AI, Machine Learning, IoT… billions of people use our technology every day, spanning countless nations, industries and applications. Most people run their lives on Arm technology. So, you see: you really do know us.
Employee quotes
Arm is a transparent company, trusts its employees to deliver the best. The environment is value based. It empowers employees. Stress is on fairness, diversity and inclusion. All this without compromising on business goals and results.
Anand Hardi
Glassdoor logo
Being a father of a 5-year-old, life gets busy. Thanks to Arm's flexible approach to work, I get to attend my son's needs and cover the work in my own time, which is great.
Isuru Herath
Glassdoor logo