Software Engineering at Arm
You might not think you know us, but you do. Our software is all over Silicon Valley. In fact, it's right in the palm of your hand. Because the biggest names in tech, from your smartphone brand to the makers of the world's fastest supercomputer look to us for the most powerful advanced core processors.
When you think about what software development can stretch to at Arm, from physical IP to machine learning, you'll wonder why you didn't apply sooner. The real-world applications for our technology are so massive, your work will influence the lives up to 70% of the global population, whether it's through award-winning VR gaming or life-enhancing medical equipment. Here you'll develop a better, connected future.
Revolutionary Rewards
FlexPot
One benefit we're really proud of is FlexPot; a sum of money on top of your salary (which is the same value regardless of your seniority) which you can use for charitable giving, development or your personal wellbeing. Ready to start that French language course you've always wanted to do? Or are you a keen gym-goer and want to use it for a membership? There's lots different of ways to enjoy your Flexpot.
Sabbatical
We'll always encourage you to take plenty of annual leave, so you stay fresh and inspired. But you know what really does it? When we encourage you to take an extended, paid 4 weeks' sabbatical after 4 years of service. You could even combine your FlexPot allowance with your sabbatical and volunteer overseas!
Progressive Leave
You're a human being, not a resource. And so it's important to us that we're there for you at significant points in your life. That's why we offer flexible progressive leave. Whether you're having kids, acting as a primary care giver or have lost a loved one, you'll be able to put your family first without worrying about your career.
Wellbeing
We create a safe space for you to look after your mental and physical health, with support ranging from medical insurance to the workplace mental health platform Unmind. Alongside a growing number of onsite gyms, yoga, cycling and running clubs. All of which comes with a flexible working policy to ensure you can live life and be your brilliant self.
Role Overview
Want to use your C++ skills creatively while learning about new compute architectures? We're looking for people with a passion to learn about groundbreaking processor architectures and who are eager to build highly optimised models.
For each IP block that we sell Arm also develops a high performance functional software model; these can be stitched together, just like the hardware, to produce working simulations of whole devices
https://www.arm.com/products/development-tools/simulation/fast-models.
These models are used extensively inside the company to validate architectural design choices, and externally, by our partners, to prototype products big and small; we can execute the whole software stack from boot loader to browser, all before hardware is available.
Successful applicants will join a new team building models of the next generation of GPU and NPU products. This team will find creative and novel solutions to achieve functional accuracy and high performance, in order to allow Arm and our partners to validate real scenarios. As one of the first consumers of new architectures you will provide invaluable feedback on their design, and influence the success of an industry by developing the tools integral to many of Arm's development flows and those of our customers.
About the role
As a Senior Software Engineer you will:
Develop, test, and maintaining high performance software models for Arm's advanced IP
Collaborate with other engineering, architecture and research groups to advance the Arm-based ecosystem
Use world-class tools - a high end development environment, HPC equipment, dedicated DevOps support
Develop into a leadership role for a technical or organisational aspect of the project
Contribute to the continuous improvement of Arm modelling methodologies
Benefit from our new offices and recently enhanced benefits package
If you have experience of any of the following items please make sure you describe the relevant work or project in your application:
Essential skills
A working knowledge of modern C++
You will be comfortable diving into an existing codebase to make modifications
A proven ability to design, debug and deliver cunning solutions to complicated software problems; perhaps by re-interpreting the problem and 'bending the rules'
Curiosity and resourcefulness
Other relevant skills
Python
GPU architecture or APIs: OpenGL (ES), Vulkan, OpenCL, CUDA etc
Machine Learning concepts or APIs: CNNs, TensorFlow, PyTorch etc
Compiler backend and IR e.g. some work with LLVM
Multi-threaded, multi-processor code
Knowledge of modelling technologies, such as SystemC or gem5
Cross-platform development for Linux and Windows
#LI-ZN1
Arm is an equal opportunity employer, committed to providing an environment of mutual respect where equal opportunities are available to all applicants and colleagues. We are a diverse organization of dedicated and innovative individuals, and don't discriminate on the basis of any characteristic.
Life at Arm
Life in the office doesn't get any better. Especially when those offices are as sleek as ours. And the people are as creative and intuitive. Combine that with our popular 'we, not I' mindset and you enjoy the kind of teamwork and togetherness rarely found elsewhere. We share so much in common, not least the same passion for progress, but we also welcome each other's diversity. Because, ultimately, we love to inspire and be inspired every day.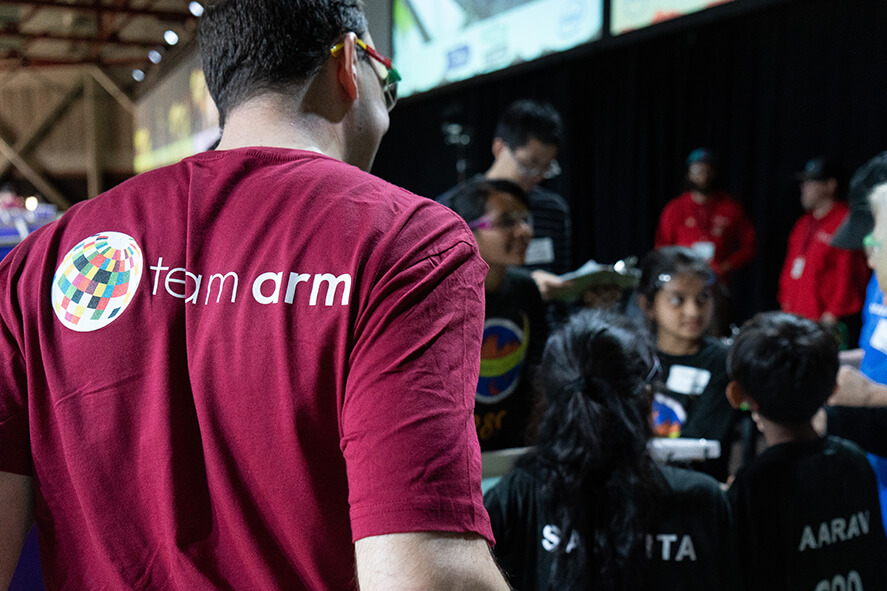 Everything Made Possible
Just how far do the possibilities of Arm's tech stretch? AI, Machine Learning, IoT… billions of people use our technology every day, spanning countless nations, industries and applications. Most people run their lives on Arm technology. So, you see: you really do know us.
Employee quotes
I'm loving my job as a Senior Software Engineer because I get to work with the latest cloud technologies like AWS and Kubernetes to try and make our engineers more efficient and making continuous delivery systems.
Sophie Carsten
Glassdoor logo
Being a Software Engineer at Arm means that you'll have the opportunity to work on ground-breaking technology that shape the world around us.
Konstantinos Monachopoulos
Glassdoor logo
The Arm technology has a massive impact on the world and you can see that from the 2000 people we were a few years ago to the 6000 we are today. That in itself leads to loads of opportunities to work on cool stuff and for your career.
Ross Keeping
Glassdoor logo
If you're a Software Engineer with generic skill sets, whether that's C, Python or whatever it might be – you'd come here to beat problems on a scale that no one else is doing.
Michael Williams
Glassdoor logo