Digital interviews
After you've applied for an Early Careers role at Arm, our hiring team will review your application and invite you for an initial digital interview. The purpose of this interview is to learn more about your motivations and passions so we can start to get to know you better. During the digital interview you'll be asked questions about the role you applied for in a similar way to a face-to-face interview but, rather than setting a specific time, you'll have seven days to complete it at a time that suits you.

How it works
We'll send you a link to the HireVue digital interview platform in an email. Once you begin the interview, you'll be asked some questions by our hiring team and either record a response using your webcam or type an answer. Depending on the role you apply for, we may also ask you to complete a short technical assessment.
Once you've submitted your answers, your application will be reviewed by our hiring team who will then contact you with information about next steps. All applications are reviewed by real people.
An example of what you can expect to see: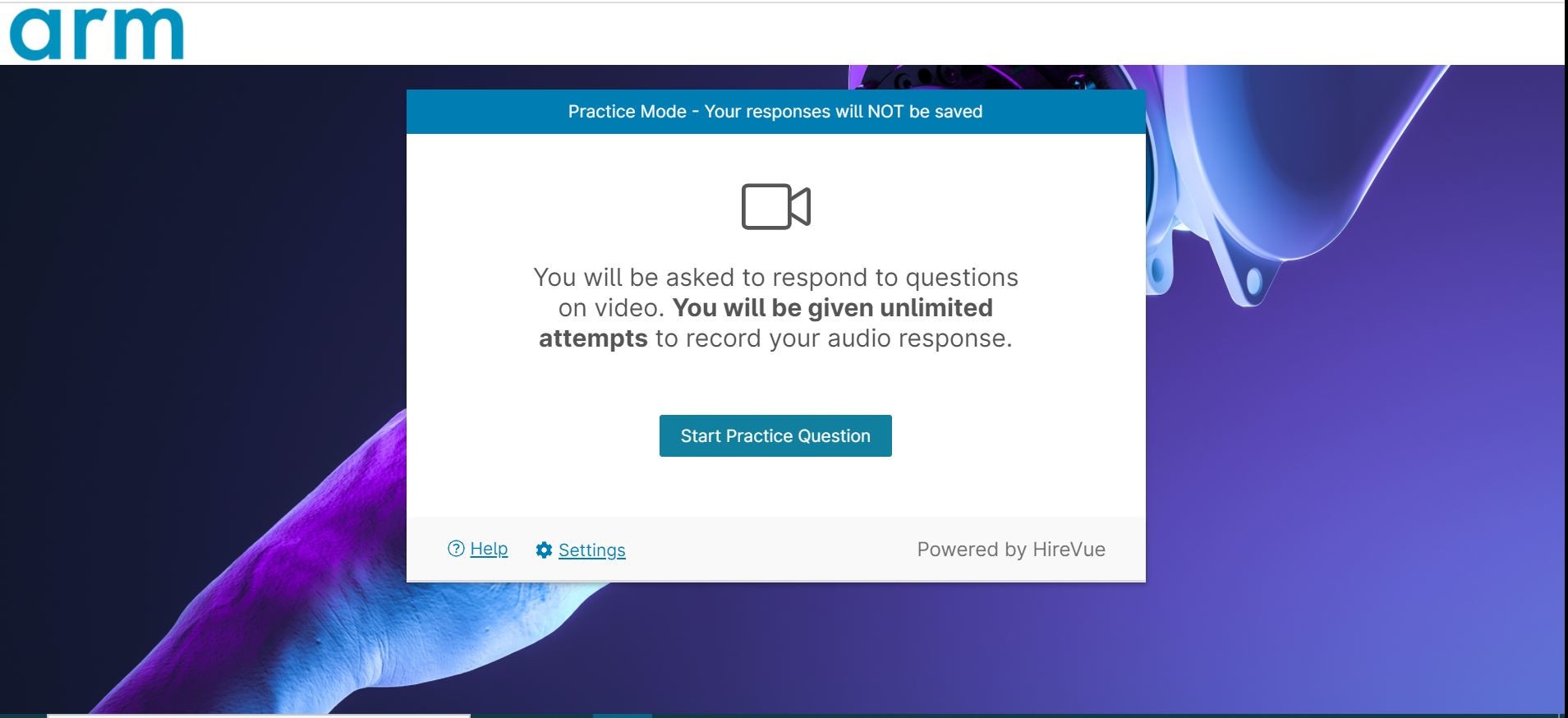 How to get ready
Below you'll find some advice on getting ready for – and doing your best during – a digital interview.
Set aside around an hour for the interview (although it probably won't take that long).

If possible, try find a place where you won't be disturbed. We find that candidates tend to be more at ease when they are in a quiet place where they can focus on the interview questions.

Be aware of your lighting, positioning, and background. If possible, place a source of light in front of you, and avoid sources of bright light directly behind you.

Have a pen and paper handy to write down any ideas you have during the interview.

Forget the formal wear. At Arm we wear clothes we're comfortable in – no suit necessary (although you can wear one if you like).

Double check your computer or mobile is charged and has a good internet connection.

Practice! The platform will give you the option of trying a practice question which will help you get comfortable with the digital interview format.

Take your time. You'll be given a good amount of time to prepare your answer after each question - make the most of it.

If you're not happy with your answer to a video question, you can re-attempt it as many times as you like.

Don't worry if something goes wrong – simply revisit the site and pick-up where you left off.

When answering questions, don't tell us you know something, but rather show us by explaining it

Remember, you are talking about yourself and how awesome you are, so relax and just 'be your brilliant self'.
To see more jobs and learn more about working at Arm click here.