After taking Maths, Further Maths and Computer Science at A-Level, I did have an idea of which field I wanted to go into after sixth form. Studying Computer Science at university level did not appeal to me since I never particularly enjoyed UI design, CS theory, nor some other aspects of the subject, but I enjoyed programming in general.
At that time, I was not aware of all the routes a CS degree could take you, and out of the routes I was considering, software development stood out to me. As I thought I would eventually end up going into software development after taking a CS degree course, I thought I should try it out first before committing to study a subject that was not exciting to me.
I joined the Apprenticeship Program at Arm in September 2019 to do a Level 4 Software Development Apprenticeship. My team members on the VIP team were lovely to work alongside; my line manager, Oliver Peel, and two others who were apprentices too at the time, John Thorlby and Richard Forrester, were very helpful in getting me onboarded in the team and were supportive throughout my time there.
The work that the VIP team engineers do was very different to my own as I had to fulfil the criteria for meeting my apprenticeship, which was in software, not hardware or engineering. However, during my time there, I was exposed to the engineering world which I knew nothing about and found extremely interesting.
A year into my apprenticeship, I realised that software development was not a route I wished to take, and that I wanted to better understand what the engineers on my team were doing. I decided to apply for university, to start after my apprenticeship ended. The course I wanted to take was Computer Systems Engineering (sometimes called Electronics and Computer Science, emphasising that it is a blend of Electronic Engineering and Computer Science).
Around January 2021, Craig Hamer and I were given the opportunity to work with David Murray on Machine Readable Specifications. This was a very valuable experience for me as I got to learn a great amount of terminology which has both broadened my understanding and confused me more! I really enjoyed working on this project.
I passed my apprenticeship with a distinction in August 2021, and am now studying my intended course at the University of Manchester, while on the PTUG program at Arm. I love my course and have joined the Robotics Society which is very fun! I am thankful that I was able to join Arm for my apprenticeship and also continue now as a PTUG. I have had a fabulous experience so far and learnt many invaluable skills, so I am really looking forward to working full-time again over summer next year to learn more about and be involved in the engineering work taking place at Arm.
"Jin Yun came up to speed very quickly and was soon actively contributing to team activities and delivery targets. Her drive and enthusiasm prompted us to put her onto a key area of innovation for arm where she showed fantastic capability and made a significant contribution to taking forward the initiative. She showed technical capability and confidence throughout her apprenticeship and will no doubt continue to do so throughout her placements at arm during her studies"

Kath Topping - Distinguished Engineer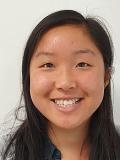 Jin Yun Wong